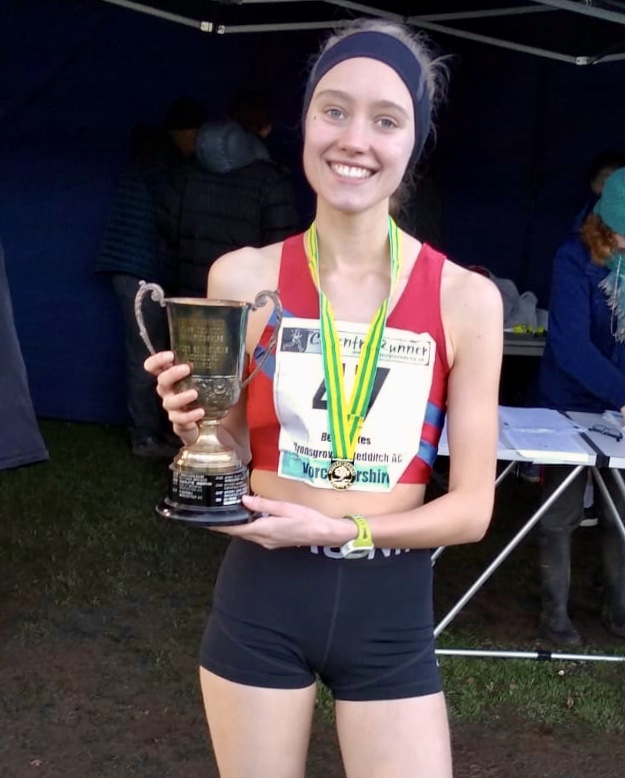 The annual Worcestershire AA Cross Country Championships were again held on the traditional first Saturday of the 2020 New Year at Warley Woods. The undulating course provided particularly good underfoot conditions despite the recent wet weather, and on what was a bright and sunny day, Bromsgrove and Redditch AC athletes revelled in the conditions to bag many individual and team medals.
The U13 boys set the tone in the day's first race when Will Pridden took individual gold, Sam Hembry silver, and Willem Hembry bronze. Not surprising then that the trio took a well deserved team gold.
Hard on their heels was Nathan Sanders who finished 5th, with Joshua Bevins a close 6th, before Spencer Mayne completed a good race in 20th position.
Determined not to be left out of the glory were the U13 girls in the next race who also took an excellent team gold as Hannah Dale finished 4th, Philippa Taylor 5th, and Amelie Ranger 6th. Also having good runs were team mates Tola Kustra and Megan Charles in positions 11th and 14th respectively.
And then up stepped the U15 boys and girls who both came away with team silver. For the boys, Owen Alenka took individual bronze for finishing third and was backed up by Seb Purvis 9th and Harry Hughes 15th. The U15 girls had Esme Ranger taking individual gold, while Lucy Hatfield and Lauren Coates came 5th and 7th respectively to cement the team's silver. The fourth U15 girl, Emily Dyer finished well placed in 11th.
No team prizes for the U17 and U20 women but individual gold went to Beth Sykes in the older age group before younger sister Lauren took bronze in the U17 age group. Also in the U17 group, Rebecca Newland ran well for 6th place.
It was then back to team success and silver, when the U17 trio of men, Harrison Mayne, picking up an individual silver, Luke Richardson, and Harry Williams took 2nd, 4th, & 9th places respectively.
Having been shown the way by the juniors, the Club's senior and masters athletes just had to then delivered their own medals to round off a successful days racing throughout the Club. First the trio of Caroline Warrington, Natasha Newton, and Liz Vaughan carried of the women's senior/masters team bronze with Caroline taking individual gold and Liz individual bronze in the W40 age group. In the same age group Jo Hounsel-Hardy ran well for a 12th place finish. The W50 group saw Jane Anderson finish 6th while Charlotte Ball, in the W60 group, was just outside an individual medal in 4th place.
Although there were no individual medals for the senior/masters men, the Club's first six finishers earned a great team bronze as Mark Appleton came 21st, Gareth Richardson 26th, Peter Ball 31st, Andy Freeman 34th, Calvin Scoltock 40th, and Malcolm Duff 47th. In a field of 84 runners, Kevin Lanckham finished 49th, Scott Beverley 54th, Dean Hartshorne 57th and Anthony Warner 59th.