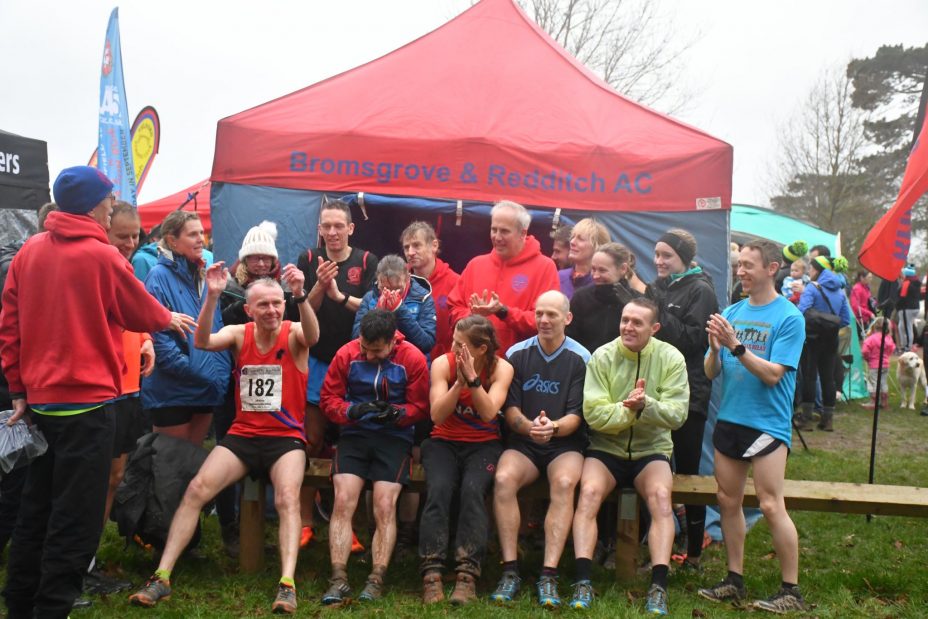 Bromsgrove and Redditch Athletic Club's stalwart, Ian Keyte, celebrated racing his 100th Birmingham & District Cross Country League fixtures at a cold, blustery, and wet Coombe Abbey Park, Coventry on the 11 January.
Ian, is one of only 20 athletes to have reached this impressive total in the League. His achievement is spread over more than 25 years, given that there are just a maximum of four League fixtures each year, and this makes his achievement even more impressive. And this is not to forget his many races in the Gloucester Cross Country League as well as competing in the annual County, Midland, and National Cross Country Championships.
As ever, Ian battled through the difficult conditions to record another good place finish as the injury hit team struggled to maintain its early season promise of matching last year's near promotion effort. Team mates Mark Appleton came 41st, Kevin Fisher 68th, Andy Freeman 74th, Calvin Scoltock 75th, Kevin Lanckham 115th, Anthony Warner 126th, Scott Beverley 142nd, Ian Keyte 166th, Dean Hartshorne 178th, and John Searle 200th.
B&R Men's A Team are now one place above relegation – full results here
The Midland Women's Cross Country League also featured at Coombe Abbey with B&RAC's ladies team coming third on the day. Laura Kyte, no relation to Ian, finished a great second with Beth Sykes, still buoyant from her County success a week earlier, coming 5th overall but placed first junior lady. Others to complete were Natalie Newton 29th, Liz Vaughan, 37th, Jo Hounsell-Hardy 78th, Dagmar Prinzig 145th, and Charlotte Ball 185th.
A day later, the juniors competed at Nuneaton in the West Midland Young Athletes Cross Country League, and pride of place went to the U13 boys. They took first place for the third consecutive League race and look well set to become team champions when the final fixture is held on the 09 February. Leading the team home was Matt Bevins finishing 3rd, with great support from Will Pridden 10th, Sam Hembry 11th, Will Hembry 12th, Nathan Sanders 14th, Thomas Mawdsley 50th, Josh Bevins 59th, & Joseph Vale 117th.
In other age groups, there were excellent top twenty finishes from Hanna Dale, Lucy Hatfield, Josie Mawdsley, Natalie Hatfield, Lauren Sykes, and Harrison Mayne.
Full junior results: U11 girls – Phoebe Ranger 26th, Katy Caswell 47th, Kara Wellborn 71st, Charlotte Bevins 75th, Caitlin Pridden 76th, Isla Williams 102nd, Winnie Padmore 103rd, Freya Churchill 113th, & Elsie Kenny 114th.
U11 boys – Harvey Campbell 50th, Gabriel Wagstaff 62nd, Charlie Egerton 100th, and Albert Padmore 113th.
U13 girls – Hanna Dale 13th, Megan Charles 56th, Philippa Taylor 64th, Amelie Ranger 73rd, Eve Freeman 77th, & Tola Kustra 94th.
U15 girls – Lucy Hatfield 6th, Josie Mawdsley 15th, Lauren Coates 24th, Esme Ranger 54th, Aoibhe Williams 75th, Emily Dyer 96th, & Lily Young 99th.
U15 boys – Leo Hawkins 91st.
U17 women – Natalie Hatfield 4th, Lauren Sykes 18th, & Sophie Groom 52nd.
U17 men – Harrison Mayne 3rd, Luke Richardson 38th, & Harry Williams 74th.