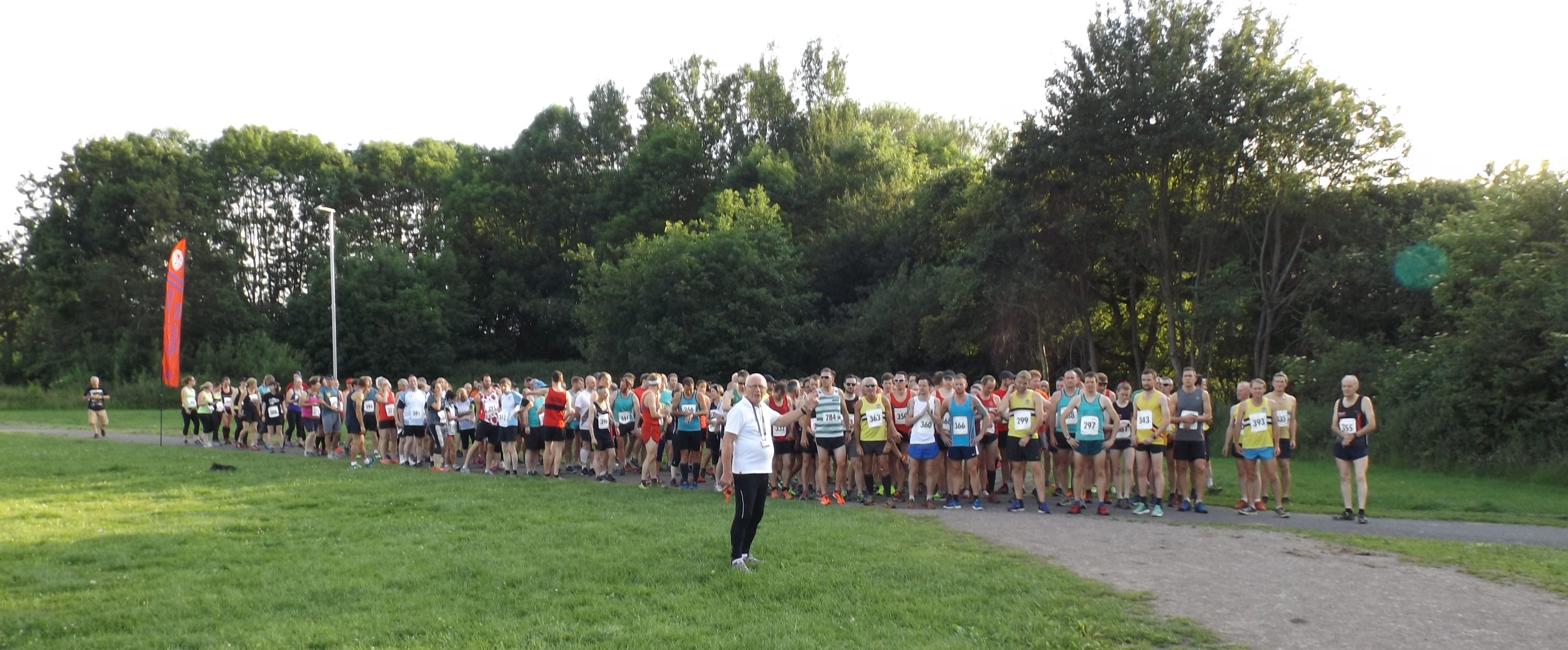 Worcestershire Midweek Series 2017
Race 2 – Arrow Valley 12k
Wednesday 14 June 2017
Report by Ian Keyte
163 Runners, including 18 from Bromsgrove & Redditch AC and 10 from Redditch based Kingfisher Harriers braved the heat for this year's hilly, 2 lap off-road 12km race along the bridleways and trails in the Arrow Valley Park.
Leading from the start was BRAT athlete Simon Lanckham who won the race in a fast time of 42.59 with last year's winner of the ladies race Molly Browne, also from BRAT finishing in an impressive 9th place overall in 46.44.
The heat and conditions got to 8 athletes who had to drop out, leaving a total of 155 finishers which is a race record.
Special mention must go to last finisher Les Bailey from Worcs Tri Club who completed the arduous course in 95.29 despite being over 80!
B&R runners finished as follows:
8th Marc Appleton – 46.36
13th Gavin Moorhead – 47.57
17th Mark Tanner – 49.00
18th Andy Freeman – 49.03
24th Tony Warner – 50.00
30th – Sally Hogan (2nd lady) – 50.52
32nd Joshua Wiseman – 51.09
41st Tamara Freeman – 52.51
43rd Steve Brooks – 52.55
46th John Searle – 53.12
54th (1st over 60) Phil Richardson – 54.08
98th Julia Blake – 65.17
101st Amy Ross – 65.49
110th Dagmar Prinzing – 67.49
115th Jennifer Lipscombe – 70.05
130th Jayne Wiseman – 76.30
Full results:
| POS | No | NAME | CLUB | CAT | TIME | CATEGORY POSITION | | | | | | | | | | | | |
| --- | --- | --- | --- | --- | --- | --- | --- | --- | --- | --- | --- | --- | --- | --- | --- | --- | --- | --- |
| | | | | | | MO | M40 | M45 | M50 | M60 | M70 | M80 | FO | F35 | F40 | F45 | F50 | F60 |
| 1 | 360 | Simon Lanckham | BRAT | MO | 42.59 | 1 | | | | | | | | | | | | |
| 2 | 366 | Karl Welborn | Tipton Harriers | MO | 43.24 | 2 | | | | | | | | | | | | |
| 3 | 299 | David Turvey | Halesowen | MO | 43.47 | 3 | | | | | | | | | | | | |
| 4 | 316 | Nigel Edgington | Unattached | M40 | 44.55 | | 1 | | | | | | | | | | | |
| 5 | 333 | Paul Jolliffe | Kings Heath RC | MO | 45.39 | 4 | | | | | | | | | | | | |
| 6 | 343 | Richard Smith | Worcester AC | MO | 45.48 | 5 | | | | | | | | | | | | |
| 7 | 297 | Matthew Pollard | Bournville Harriers | MO | 46.06 | 6 | | | | | | | | | | | | |
| 8 | 331 | Mark Appleton | Bromsgrove & Redditch | MO | 46.36 | 7 | | | | | | | | | | | | |
| 9 | 361 | Molly Browne | BRAT | FO | 46.44 | | | | | | | | 1 | | | | | |
| 10 | 424 | Richard Gallois | Kingfisher Harriers | M40 | 46.55 | | 2 | | | | | | | | | | | |
| 11 | 339 | Ben Beaumont | BRAT | MO | 47.08 | 8 | | | | | | | | | | | | |
| 12 | 285 | Matt Biggs | Birchfield Harriers | MO | 47.48 | 9 | | | | | | | | | | | | |
| 13 | 329 | Gavin Moorhead | Bromsgrove & Redditch | M40 | 47.57 | 10 | | | | | | | | | | | | |
| 14 | 315 | Lee Hawkes | Unattached | M45 | 48.08 | | | 1 | | | | | | | | | | |
| 15 | 284 | David Mole | Tipton Harriers | M40 | 48.33 | | 3 | | | | | | | | | | | |
| 16 | 393 | Bill Nock | Halesowen | M50 | 48.38 | | | | 1 | | | | | | | | | |
| 17 | 255 | Mark Tanner | Bromsgrove & Redditch | MO | 49.00 | 11 | | | | | | | | | | | | |
| 18 | 350 | Andy Freeman | Bromsgrove & Redditch | M40 | 49.03 | | 4 | | | | | | | | | | | |
| 19 | 337 | Huw Jones | BRAT | M50 | 49.13 | | | | 2 | | | | | | | | | |
| 20 | 363 | Kevin Monk | Halesowen | M50 | 49.28 | | | | 3 | | | | | | | | | |
| 21 | 309 | Davis Lewis | Halesowen | M45 | 49.34 | | | 2 | | | | | | | | | | |
| 22 | 275 | Pete Walters | Stourbridge AC | M40 | 49.43 | | 5 | | | | | | | | | | | |
| 23 | 352 | Tom Isherwood | Stourbridge AC | MO | 49.44 | 12 | | | | | | | | | | | | |
| 24 | 302 | Anthony Warner | Bromsgrove & Redditch | MO | 50.00 | 13 | | | | | | | | | | | | |
| 25 | 377 | Andy Scarle | Barnt Green Chuggers | M45 | 50.23 | | | 3 | | | | | | | | | | |
| 26 | 417 | Grant Whigham | Bournville Harriers | M40 | 50.25 | | 6 | | | | | | | | | | | |
| 27 | 326 | Andy Piddington | BRAT | M45 | 50.29 | | | 4 | | | | | | | | | | |
| 28 | 294 | Paul Webster | Sparkhill Harriers | M40 | 50.41 | | 7 | | | | | | | | | | | |
| 29 | 313 | Graham Birch | Kenilworth Runners | M50 | 50.49 | | | | 4 | | | | | | | | | |
| 30 | 330 | Sally Hogan | Bromsgrove & Redditch | FO | 50.52 | | | | | | | | 2 | | | | | |
| 31 | 359 | Eloise Lee | BRAT | FO | 51.06 | | | | | | | | 3 | | | | | |
| 32 | 372 | Joshua Wiseman | Bromsgrove & Redditch | MO | 51.09 | 14 | | | | | | | | | | | | |
| 33 | 421 | C. Woods | BRAT | M40 | 51.11 | | 8 | | | | | | | | | | | |
| 34 | 364 | George Dibble | Unattached | MO | 51.15 | 15 | | | | | | | | | | | | |
| 35 | 270 | James Parker | Halesowen | M45 | 51.30 | | | 5 | | | | | | | | | | |
| 36 | 356 | Chris Harris | Black Pear Joggers | M40 | 51.31 | | 9 | | | | | | | | | | | |
| 37 | 373 | Richard Newby | Barnt Green Chuggers | M45 | 51.41 | | | 6 | | | | | | | | | | |
| 38 | 335 | Alex Morgan | Halesowen | M50 | 52.21 | | | | 5 | | | | | | | | | |
| 39 | 369 | James Evans | Bournville Harriers | MO | 52.27 | 16 | | | | | | | | | | | | |
| 40 | 415 | Adam Taylor | Droitwich AC | M40 | 52.46 | | 10 | | | | | | | | | | | |
| 41 | 351 | Tamara Freeman | Bromsgrove & Redditch | FO | 52.51 | | | | | | | | 4 | | | | | |
| 42 | 292 | Matt Allen | Halesowen | M40 | 52.54 | | 11 | | | | | | | | | | | |
| 43 | 411 | Steve Brooks | Bromsgrove & Redditch | M45 | 52.55 | | | 7 | | | | | | | | | | |
| 44 | 252 | Chris Callow | Kings Heath RC | M45 | 52.58 | | | 8 | | | | | | | | | | |
| 45 | 413 | David Gorten | Unattached | M40 | 53.06 | | 12 | | | | | | | | | | | |
| 46 | 412 | John Searle | Bromsgrove & Redditch | M45 | 53.12 | | | 9 | | | | | | | | | | |
| 47 | 433 | James Douglas | Unattached | M40 | 53.19 | | 13 | | | | | | | | | | | |
| 48 | 396 | Trevor McGill | Droitwich AC | M50 | 53.20 | | | | 6 | | | | | | | | | |
| 49 | 382 | Michael Zarno | Unattached | MO | 53.23 | 17 | | | | | | | | | | | | |
| 50 | 312 | David Hall | Barnt Green Chuggers | M50 | 53.27 | | | | 7 | | | | | | | | | |
| 51 | 414 | Ernie Heaton | Kingfisher Harriers | M45 | 53.30 | | | 10 | | | | | | | | | | |
| 52 | 423 | Stephen Thompson | Unattached | M50 | 53.37 | | | | 8 | | | | | | | | | |
| 53 | 379 | Simon Duck | Halesowen | M45 | 53.48 | | | 11 | | | | | | | | | | |
| 54 | 332 | Phil Richardson | Bromsgrove & Redditch | M60 | 54.08 | | | | | 1 | | | | | | | | |
| 55 | 384 | Andy Nock | Halesowen | M60 | 54.14 | | | | | 2 | | | | | | | | |
| 56 | 283 | Helen Tromans | Dudley Kingswinford | F45 | 54.52 | | | | | | | | | | | 1 | | |
| 57 | 370 | Sam Morton | Halesowen | F45 | 55.05 | | | | | | | | | | | 2 | | |
| 58 | 324 | Tahir Akhtar | Sparkhill Harriers | M50 | 55.41 | | | | 9 | | | | | | | | | |
| 59 | 306 | Linda Howell | Bournville Harriers | F35 | 56.08 | | | | | | | | | 1 | | | | |
| 60 | 362 | Alistair McIntosh | Stourbridge AC | M40 | 56.22 | | 14 | | | | | | | | | | | |
| 61 | 310 | Richard Guest | Halesowen | M50 | 56.30 | | | | 10 | | | | | | | | | |
| 62 | 279 | Aimee Palace | Cobra | FO | 56.43 | | | | | | | | 5 | | | | | |
| 63 | 355 | Martin Ludford | BRAT | M50 | 56.48 | | | | 11 | | | | | | | | | |
| 64 | 342 | Cass Chisholm | BRAT | F35 | 57.06 | | | | | | | | | 2 | | | | |
| 65 | 353 | Marc Lloyd | Unattached | MO | 57.07 | 18 | | | | | | | | | | | | |
| 66 | 420 | Eddie Short | Wye Valley Runners | MO | 57.22 | 19 | | | | | | | | | | | | |
| 67 | 341 | Jim Clarke | Bournville Harriers | M45 | 57.24 | | | 12 | | | | | | | | | | |
| 68 | 425 | Dave Sheppard | Stourbridge AC | M50 | 57.28 | | | | 12 | | | | | | | | | |
| 69 | 328 | Robert Weaver | Halesowen | M45 | 57.31 | | | 13 | | | | | | | | | | |
| 70 | 256 | Andrew Foden | Droitwich AC | M45 | 57.39 | | | 14 | | | | | | | | | | |
| 71 | 419 | Andrew Hewston | Kingfisher Harriers | M40 | 57.52 | | 15 | | | | | | | | | | | |
| 72 | 276 | Suki Lotay | Kings Heath RC | MO | 58.15 | 20 | | | | | | | | | | | | |
| 73 | 334 | Mark Lawton | Stourbridge AC | M40 | 58.39 | | 16 | | | | | | | | | | | |
| 74 | 381 | Richard Dugdale | Barnt Green Chuggers | M50 | 58.57 | | | | 13 | | | | | | | | | |
| 75 | 291 | Richard Shearling | Bournville Harriers | MO | 59.07 | 21 | | | | | | | | | | | | |
| 76 | 295 | Sarah Rock | Bournville Harriers | F35 | 59.14 | | | | | | | | | 3 | | | | |
| 77 | 383 | Steve Millington | Halesowen | M50 | 59.31 | | | | 14 | | | | | | | | | |
| 78 | 385 | Frank Astle | Unattached | MO | 59.36 | 22 | | | | | | | | | | | | |
| 79 | 260 | Lisa Tindle Soloman | BRAT | F35 | 59.44 | | | | | | | | | 4 | | | | |
| 80 | 298 | Kevin Burke | Stourbridge AC | M60 | 59.56 | | | | | 3 | | | | | | | | |
| 81 | 346 | Ian Taylor | Unattached | M40 | 60.02 | | 17 | | | | | | | | | | | |
| 82 | 365 | Lee Harvey | Unattached | M45 | 60.18 | | | 15 | | | | | | | | | | |
| 83 | 289 | Karen Riley | TRIKS | F40 | 60.25 | | | | | | | | | | 1 | | | |
| 84 | 262 | Matt Smith | Road Runners Club | M45 | 60.43 | | | 16 | | | | | | | | | | |
| 85 | 378 | Kerri James | Halesowen | F45 | 60.47 | | | | | | | | | | | 3 | | |
| 86 | 358 | Darren Cox | Kings Heath RC | MO | 60.49 | 23 | | | | | | | | | | | | |
| 87 | 281 | Lucy Tugwell | Spa Striders | F35 | 61.04 | | | | | | | | | 5 | | | | |
| 88 | 287 | Melanie Hepke | Halesowen | F45 | 61.38 | | | | | | | | | | | 4 | | |
| 89 | 300 | Joan Clarke | Stourbridge AC | F60 | 62.31 | | | | | | | | | | | | | 1 |
| 90 | 391 | Laurence Mills | Unattached | M40 | 62.58 | | 18 | | | | | | | | | | | |
| 91 | 392 | Sally Spencer | Halesowen | F50 | 63.40 | | | | | | | | | | | | 1 | |
| 92 | 387 | Colin Marshall | Unattached | M40 | 64.04 | | 19 | | | | | | | | | | | |
| 93 | 280 | Paul Samuels | Bournville Harriers | M50 | 64.23 | | | | 15 | | | | | | | | | |
| 94 | 282 | Emma Fordham | Barnt Green Chuggers | F40 | 64.25 | | | | | | | | | | 2 | | | |
| 95 | 263 | Julie Caseley | Malvern Joggers | F50 | 64.31 | | | | | | | | | | | | 2 | |
| 96 | 390 | Caroline Lambert | Halesowen | F45 | 64.52 | | | | | | | | | | | 5 | | |
| 97 | 376 | Louise Beasley | BRAT | F35 | 65.02 | | | | | | | | | 6 | | | | |
| 98 | 388 | Julia Blake | Bromsgrove & Redditch | F45 | 65.17 | | | | | | | | | | | 6 | | |
| 99 | 321 | John Coyne | Stourbridge AC | M50 | 65.29 | | | | 16 | | | | | | | | | |
| 100 | 398 | Paul Collins | Unattached | MO | 65.38 | 24 | | | | | | | | | | | | |
| 101 | 367 | Amy Ross | Bromsgrove & Redditch | FO | 65.49 | | | | | | | | 6 | | | | | |
| 102 | 307 | Steve Doswell | Bournville Harriers | M50 | 65.55 | | | | 17 | | | | | | | | | |
| 103 | 311 | Sharon Coleman | Barnt Green Chuggers | F50 | 66.17 | | | | | | | | | | | | 3 | |
| 104 | 293 | Philip Elwell | Stourbridge AC | M60 | 66.21 | | | | | 4 | | | | | | | | |
| 105 | 318 | Ron Anderson | Unattached | M60 | 66.26 | | | | | 5 | | | | | | | | |
| 106 | 336 | Jamie Sircom | Halesowen | M40 | 66.49 | | 20 | | | | | | | | | | | |
| 107 | 422 | Paul Bradley | Stourbridge AC | M50 | 67.14 | | | | 18 | | | | | | | | | |
| 108 | 429 | Nicholas Smith | Droitwich AC | M50 | 67.27 | | | | 19 | | | | | | | | | |
| 109 | 380 | Richard Dawson | Stourbridge AC | MO | 67.29 | 25 | | | | | | | | | | | | |
| 110 | 323 | Dagmar Prinzing | Bromsgrove & Redditch | F45 | 67.49 | | | | | | | | | | | 7 | | |
| 111 | 401 | Sarah Redshaw | Unattached | F35 | 68.12 | | | | | | | | | 7 | | | | |
| 112 | 375 | Anna Cosimetti | Halesowen | F45 | 68.40 | | | | | | | | | | | 8 | | |
| 113 | 399 | Sarah Bakewell | BRAT | FO | 68.41 | | | | | | | | 7 | | | | | |
| 114 | 374 | Stephanie Adams | Halesowen | F35 | 69.19 | | | | | | | | | 8 | | | | |
| 115 | 400 | Jennifer Lipscombe | Bromsgrove & Redditch | FO | 70.05 | | | | | | | | 8 | | | | | |
| 116 | 416 | Richard Harper | Kingfisher Harriers | MO | 70.25 | 26 | | | | | | | | | | | | |
| 117 | 278 | Ben Hetherington | Unattached | MO | 70.28 | 27 | | | | | | | | | | | | |
| 118 | 386 | Lucy Challinor | Barnt Green Chuggers | F40 | 70.56 | | | | | | | | | | 3 | | | |
| 119 | 325 | Stuart Bryan | Unattached | M45 | 71.41 | | | 17 | | | | | | | | | | |
| 120 | 389 | Andy Karran | Unattached | MO | 72.19 | 28 | | | | | | | | | | | | |
| 121 | 269 | Jane Pugh | Action Heart RC | F45 | 72.27 | | | | | | | | | | | 9 | | |
| 122 | 395 | Nev Drumm | Unattached | MO | 72.38 | 29 | | | | | | | | | | | | |
| 123 | 394 | Paul Bussey | Unattached | M40 | 72.45 | | 21 | | | | | | | | | | | |
| 124 | 427 | Clare Grennan | Kingfisher Harriers | F40 | 72.55 | | | | | | | | | | 4 | | | |
| 125 | 344 | Paul McArdle | Unattached | M50 | 73.48 | | | | 20 | | | | | | | | | |
| 126 | 327 | Doug Richards | Kingfisher Harriers | M60 | 73.53 | | | | | 6 | | | | | | | | |
| 127 | 397 | Tony Collins | Unattached | M60 | 74.10 | | | | | 7 | | | | | | | | |
| 128 | 308 | Samantha Hatton | Unattached | F45 | 74.17 | | | | | | | | | | | 10 | | |
| 129 | 410 | Jadey Smith | Unattached | FO | 74.34 | | | | | | | | 9 | | | | | |
| 130 | 371 | Jayne Wiseman | Bromsgrove & Redditch | F50 | 76.30 | | | | | | | | | | | | 4 | |
| 131 | 345 | Gemma Brown | Unattached | FO | 76.55 | | | | | | | | 10 | | | | | |
| 132 | 354 | Grainne Bermingham | Bournville Harriers | F40 | 78.08 | | | | | | | | | | 5 | | | |
| 133 | 288 | Kate Duffin | Kingfisher Harriers | F40 | 78.13 | | | | | | | | | | 6 | | | |
| 134 | 408 | Sarah Bridge | Unattached | F35 | 78.26 | | | | | | | | | 9 | | | | |
| 135 | 407 | Melanie Collivet | Unattached | F40 | 80.02 | | | | | | | | | | 7 | | | |
| 136 | 271 | Debra Berbezier | Kingfisher Harriers | F40 | 80.41 | | | | | | | | | | 8 | | | |
| 137 | 272 | Mark Berbezier | Kingfisher Harriers | M40 | 80.42 | | 22 | | | | | | | | | | | |
| 138 | 402 | Catherine Sherlock | Unattached | F40 | 81.16 | | | | | | | | | | 9 | | | |
| 139 | 403 | Lisa Howe | Unattached | FO | 81.17 | | | | | | | | 11 | | | | | |
| 140 | 409 | Caroline Gardiner | Unattached | F35 | 81.19 | | | | | | | | | 10 | | | | |
| 141 | 404 | Hayley Turner | Unattached | FO | 81.28 | | | | | | | | 12 | | | | | |
| 142 | 257 | Richard Coates | Stafford Tri Club | M45 | 81.40 | | | 18 | | | | | | | | | | |
| 143 | 431 | Hayley Oates | Unattached | FO | 81.46 | | | | | | | | 13 | | | | | |
| 144 | 432 | Kayleigh Rea | Unattached | FO | 81.47 | | | | | | | | 14 | | | | | |
| 145 | 253 | Lesley Pymm | Bournville Harriers | F60 | 82.00 | | | | | | | | | | | | | 2 |
| 146 | 304 | Simon Richards | Barnt Green Chuggers | M50 | 82.15 | | | | 21 | | | | | | | | | |
| 147 | 428 | Julie Swain | Unattached | FO | 82.40 | | | | | | | | 15 | | | | | |
| 148 | 405 | Stephanie Mason | Unattached | FO | 82.49 | | | | | | | | 16 | | | | | |
| 149 | 347 | Helen Lawrence | Bournville Harriers | F50 | 85.12 | | | | | | | | | | | | | |
| 150 | 348 | Louise Lumley | Unattached | F50 | 85.12 | | | | | | | | | | | | 5 | |
| 151 | 349 | Erica Martin | Unattached | F45 | 85.12 | | | | | | | | | | | 11 | | |
| 152 | 418 | Alex Dentith | Unattached | F40 | 85.43 | | | | | | | | | | 10 | | | |
| 153 | 254 | Joanne Tanner | Unattached | F35 | 87.37 | | | | | | | | | 11 | | | | |
| 154 | 430 | Dave Lipscombe | Kingfisher Harriers | M50 | 89.45 | | | | 22 | | | | | | | | | |
| 155 | 320 | Les Bailey | Worcs Tri Club | M80 | 95.29 | | | | | | | 1 | | | | | | |