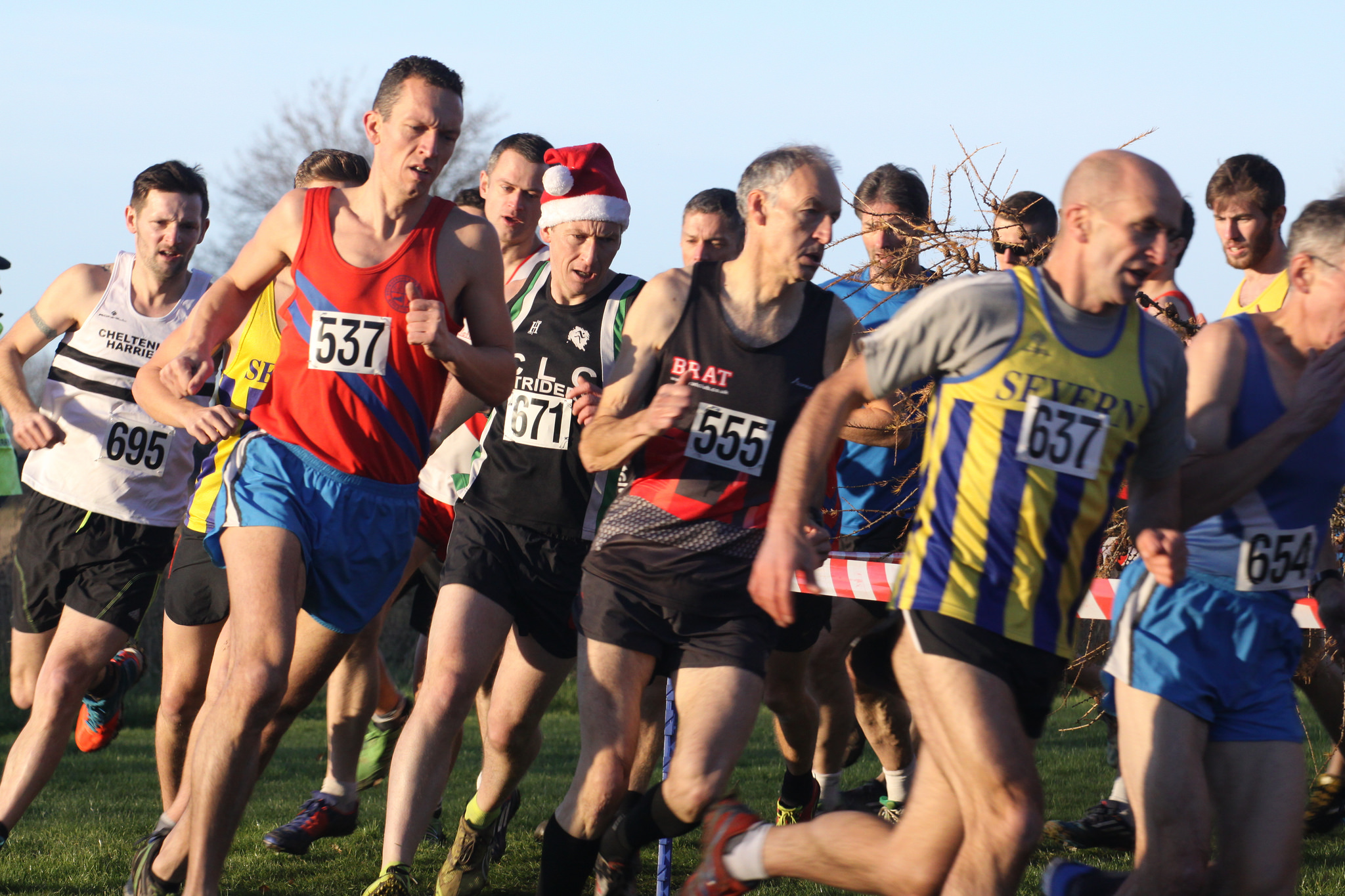 Gloucestershire League Cross Country Results – Pitville Park, Cheltenham 13/12/14
Photos by Pete Hawcroft. Run report by Katy Anderson
Continuing the team's great run of form, Bromsgrove & Redditch ladies finished third senior team and fifth masters team in Saturday's Gloucester League Cross Country in Cheltenham, the penultimate race in the series.
In contrast to last weekend's Midlands League fixture in Northampton, the 6km women's race started slowly. Katy Anderson found herself at the front, but she was tracked closely by Stroud's Gwen Kinsey who eventually showed her class by pulling away midway through the second lap. Kinsey never looked back and won with ease in 24:15, with Anderson second (24:37).
Tamara Ball, who kept the leaders in sight throughout the race, delivered one of her best performances of the season so far, beating all of her closest rivals in the Gloucester League to finish fourth in 25:06 and only just being pipped on the line by Liza Barry of CLC Striders who took third.
Making up B&R's scoring trio, Thomasina Ball returned to action for the club and did brilliantly to finish 27th (27:22).
There was a great turnout from B&R ladies, and behind the top three, the other girls packed really well. Becky Selvey ran a strong race to finish 50th (28:56), with Lara Jackon just one place and two seconds behind in 51st (28:58).
Jane Anderson and Charlotte Ball finished in 64th (29:55) and 65th (30:03) respectively, with Ann Stuart 68th in 30:25 and Holly-Jane Smith only just missing out on a top-100 place when finishing 101st in 33:30.
The B&R men also had a good turnout with 14 runners. First home was Joe Smith in 8th place. Simon Lanckham (29th), Andy Freeman (55th), Dave Gale (56th), Kevin Lanckham (62nd) and Matt Henney (81st) made up the rest of the scoring six. The men's A team finished 7th out of 24 teams.
The men's masters team came 6th out of 18 teams.
B&R men's finishing places:
8 Joe Smith
29 Simon Lanckham
55 Andy Freeman
56 Dave Gale
62 Kevin Lanckham
81 Matt Henney
96 Dean Hartshorne
101 Lewis Anderson
105 Ian Keyte
124 Steve Brooks
156 Phil Richardson
161 Phil Anderson
201 Len Quartly
213 Roger Beacham
217 finishers
There is now a three week break before the Worcestershire Cross Country Championships at Cofton Park, Birmingham on Saturday 3 January.
Click here for photos by Pete Hawcroft
Click here for photos by David Ball