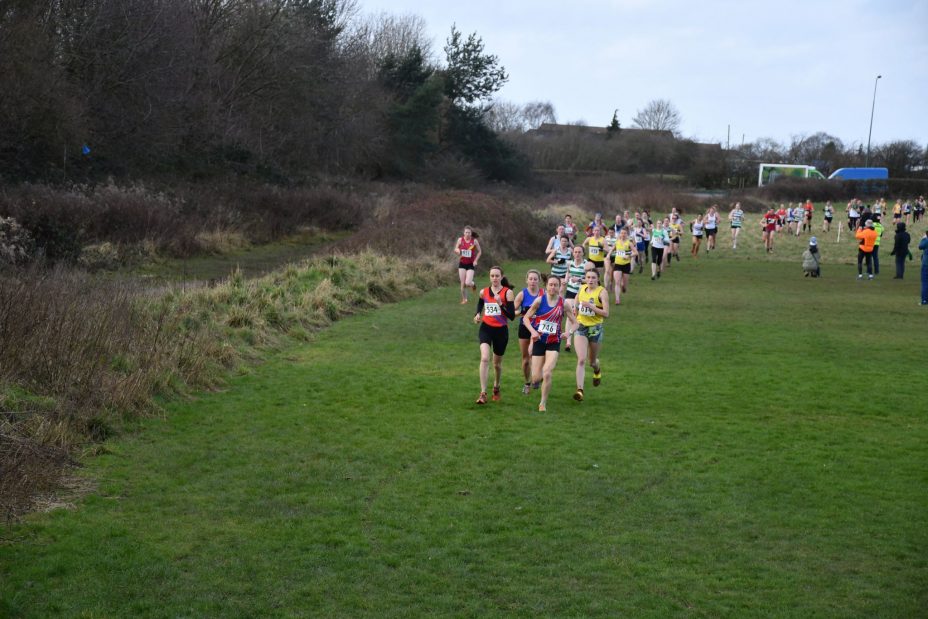 Birmingham & District Invitation Cross Country League
Division 2
Race 4
08/02/2020 at Lilleshall
B&R AC Men finished 6th out of 14 teams on the day. After a mid season brush with the relagation zone, the effort at the final race pulled us back to 9th out of 14 teams over the season.
After a promising start to the four race season in the Birmingham & District Cross Country League, B&R senior men had to pull out all the stops in the last fixture to avoid slipping into the League's third and bottom tier.
Race one had seen the Club claim 7th place, a healthy top half position out of 14 teams, to raise expectations that it could push for promotion for the second season running. But then injuries, out of form performances, and unavoidable absences over the next two races saw a slide down the table so that going into the last fixture, the Club was one of four Club's fighting to avoid twelfth spot to join Kings Heath RC and Massey Ferguson RC in the drop.
Going into the last race at Lilleshall on a sunny, but increasingly windy day, less than 200 points, which is a small margin in cross country, covered Black Pear (9th); CLC Striders (10th); B&R (11th); & Telford (12th). The threatened teams were therefore always likely to put out their strongest runners even if carrying niggling injuries, and so it proved.
The result was that Telford finished 5th team on the day; B&R a close 6th; and CLC Striders 11th. With the first six runners in each team counting towards the final points total, all three Clubs had their sextet finishing in the first 100 finishers and it was more than enough to consign Black Pear to the drop despite their lead runner coming an excellent 16th in a field of 203 runners. And for B&R it meant they finished the season safely in 9th place.
Individually on the day, B&R's scoring six of Pete Vale, Tim Spencer, & Mark Appleton packed well to be placed 20th, 21st, & 22nd respectively and were strongly supported by Patrick Mackie (51st), Peter Ball (55th), & Kevin Fisher (63rd). Also finishing well were Andy Freeman (81st), Gareth Richardson (89th), & Kevin Lanckham (92nd).
Over the season, 164 runners from all the Clubs, completed at least three of the four fixtures with the best three finishes counting towards individual trophies. While B&R runners were not in the running for trophies, there were very creditable season's performances from Mark Appleton coming 23rd, team captain Peter Ball 33rd, Kevin Fisher 48th, Andy Freeman 58th, Calvin Scoltock 59th, Anthony Warner 85th, & Kevin Lanckham 86th.
Individual B&R performances:
20 – 34:40 Peter Vale
21 – 34:44 Tim Spencer
22 – 34:50 Mark Appleton
51 – 36:20 Patrick Mackie
55 – 36:32 Peter Ball
63 – 36:57 Kevin Fisher
81 – 37:51 Andrew Freeman
89 – 38:15 Gareth Richardson
92 – 38:27 Kevin Lanckham
100 – 38:48 Calvin Scoltock
105 – 38:51 Malcolm Duff
116 – 39:22 Anthony Warner
129 – 40:02 Scott Beverley
139 – 40:41 Dean Hartshorne
141 – 40:49 Tom Richardson
143 – 40:52 Stephen Brooks
161 – 42:35 Ian Keyte
170 – 43:36 John Searle
182 – 46:11 Jamie Dancyger
Midland Women's League Cross Country
Division 2
Race 4
08/02/2020 at Aldridge Airport
B&R senior ladies were in action at Aldridge Airport in the Midland Women's League. Although without three of their quicker runners, they still put in good performances to finish 6th team (from 21 teams) on the day. Leading the way was Laura Kyte who had a great four race series. Following a 1st and two 2nd place finishes in the first three fixtures, she added an excellent 3rd place at Aldridge to end the season in 2nd place overall. In a field of 179 runners, Natalie Newton and Liz Vaughan had yet another close race of their own before Newton pulled away to finish 29th with Vaughan less than a minute behind in 39th. Completing a good team effort were Jo Hounsel-Hardy 62nd; Jane Anderson 118th; Dagmar Prinzing 121st; and Charlotte Ball 150th.
Individual B&R performances:
3 – Laura Kyte 00:26:19
29 – Natasha Newton 00:30:14
39 – Liz Vaughan 00:31:12
62 – -Joanne Hounsell-Hardy 00:33:31
118 – Jane Anderson 00:38:22
121 – Dagmar Prinzing 00:38:49
150 – Charlotte Ball 00:43:37