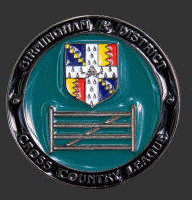 Birmingham & District Invitation Cross Country League
Division 2
Race 4
10/02/2018 at Ullenwood, Cheltenham
Cheltenham based CLC Striders hosted the 4th and final Division 2 Birmingham League race of the on a new course at National Star College.
Despite the freezing conditions 18 athletes turned out to race over the tough 'old school' 4 lap course though cheese rolling specialist Dean 'Wensleydale' Hartshorne, who is no stranger to running in Gloucestershire found the course rather flatter than what he was used to.
Once again the race was won by Cannock's Chris Perrin to make it 4 wins out of 4, followed by Telford's 'wonder vet' 50 year old Paul Ward and Stephen Millward of Gloucester in 3rd.
Tim Spencer and Peter Ball running in their first season for the club both produced their best runs so far to finish in 18th and 32nd respectively with Ashley Ross third back in 49th, also his best race.
Mark Appleton put in another solid performance to finish 55th and team manager James Adie in his first race for 8 years was fifth scorer in 59th.
The team was completed by veteran Kevin Fisher in 67th to make B&R 5th on the day out of 17 teams and 6th overall for the season.
Andy Freeman ran well to finish 69th, followed by youngster Gareth Richardson running in his first season as a senior in 96th.
Other placings were:
Tom Richardson 110
Kevin Lanckham 131
Rob Humphries 136
Anthony Howell 144
Ian Keyte 148
Dean Hartshorne 164
Phil Richardson 189
Ian Nutter 197
Pete Hawcroft 215
Phil Anderson in 224th became B&R's 4th member of the exclusive '75 Club' by completing his 75th race in which is some achievement as there are only 4 races per year.
258 athletes completed the course.