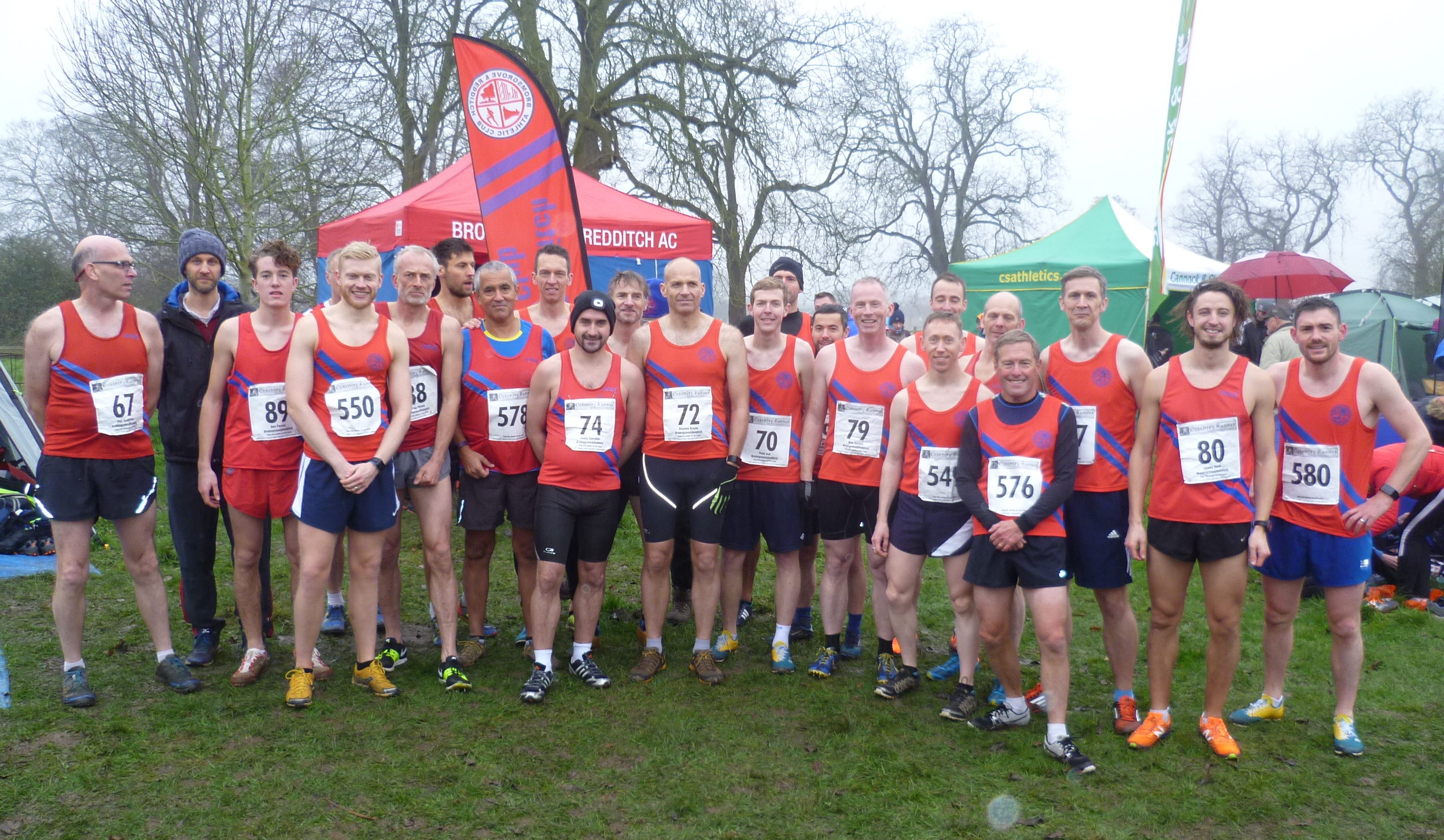 Birmingham & District Invitation Cross Country League
Division 2
Race 2
02/12/2017 at Clopton Park, Stratford Upon Avon
Stratford AC hosted the second Birmingham League Division 2 race, held in the Welcombe Hills which was a challenging, hilly 3 lap race through plenty of mud.
Former international athlete and B&R legend Adrian 'Shergar' Passey decided to come out of retirement after an absence of 14 years following a bet with his son, Oxford student Ben in his first race for the club that he wouldn't beat him this season. Also coming out of retirement was 59 year old Simon Radcliffe who also had not raced for many years, making it 25 athletes for the club.
The course proved particularly treacherous for the athletes with a fair few falling over, including leader Chris Perrin from Cannock and Staffs AC who luckily had enough of a lead over second placed Stephen Millward of Gloucester to get up and still win the race by an impressive 40 seconds with amazing over 50 athlete Paul Ward of Telford taking third.
Adrian's pedigree showed from the start and he managed to stay with the leaders, finishing an impressive 12th with Ben rapidly closing the gap on the final lap to come in 21st, 48 seconds behind his dad so 1-0 to Adrian!
Mark Appleton continued his fine form finishing 32nd followed by club newcomers Tim Spencer and Peter Ball in 40th and 43rd positions respectively. James Hood returning from injury ran well to complete the scoring six finishing 55th.
The addition of Adrian, Ben, Tim and Peter who couldn't make the first race made a big difference to the team which came 5th out of 17 teams, 3 places higher than the first fixture and moving them up to 6th overall after 2 races.
The B team consisted of Kevin Fisher 58th, Gareth Richardson 62nd, Adam Parr 74th, Ashley Ross 82nd, Andy Freeman 93rd and Calvin Scoltock 104th to give them second on the day and 4th after 2 races.
The remaining B&R runners finished as follows:
107 Tom Richardson
121 Steve Brooks
137 Tony Warner
146 Anthony Howell
169 Matt Henney
170 Kevin Lanckham
189 Dean Hartshorne
204 Paul Edmonds
220 Ian Nutter
241 Jamie Dancyger
251 Pete Hawcroft
254 Phil Anderson
267 Simon Radcliffe
288 Runners finished the race.