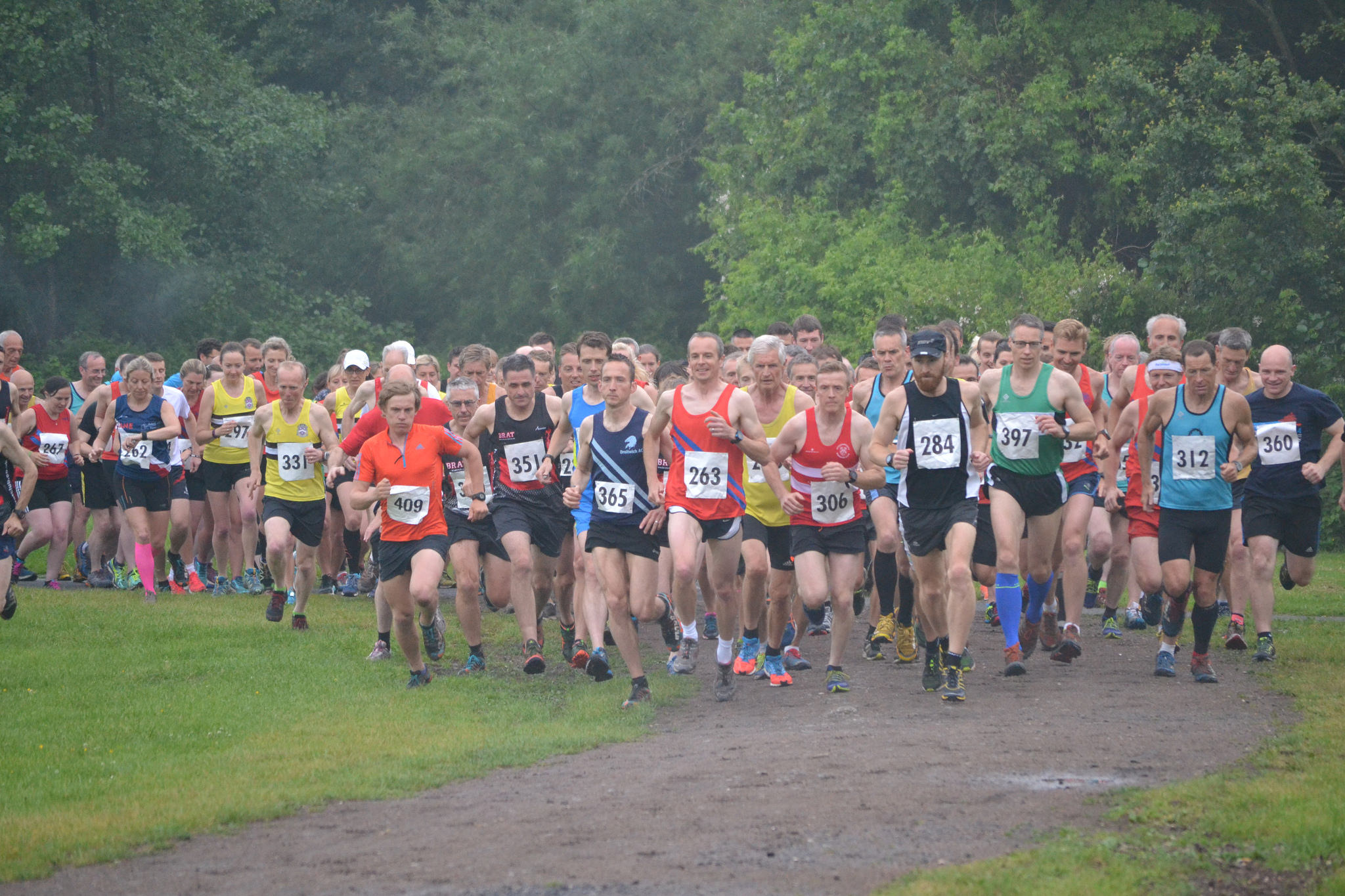 The fourth and final race in the Worcestershire Midweek Summer Series is at Clent on Wednesday 10 August. An undulating 8km race over the footpaths and bridleways around the Clent Hills.
Registration and race start are at the National Trust Nimmings car park at Hagley Wood Lane. Race starts at 7.30pm.
After the race the series prize giving will take place at the Halesowen Athletics Club, Manor Way, Halesowen. Showers, changing and a full bar available.
Prizes are given to the first three in each age category who complete at least three races.
Here are the series positions after the first three races:
| MID WEEK SUMMER SERIES 2016 | | | | | | | | |
| --- | --- | --- | --- | --- | --- | --- | --- | --- |
| RESULTS AFTER THREE RACES | | | | | | | | |
| F/Open | | | | | | | | |
| Name | Club | Hagley | Redditch | Droitwich | Clent | Races Finished | Total for series | Series Position |
| Molly Browne | BRAT Club | 1 | 1 | 1 | | 3 | 3 | 1 |
| Rosie Davies | BRAT Club | 10 | 2 | 6 | | 3 | 18 | 2 |
| Danielle Bogue | BRAT Club | 5 | 6 | 11 | | 3 | 22 | 3 |
| Estelle Bradley | Unattached | 9 | 7 | 10 | | 3 | 26 | 4 |
| Alice Self | Unattached | 11 | 8 | 9 | | 3 | 28 | 5 |
| Sarah Bakewell | BRAT Club | 15 | 11 | 15 | | 3 | 41 | 6 |
| Gemma Nicholson | Unattached | 16 | 14 | 17 | | 3 | 47 | 7 |
| Holly Smith | Bromsgrove & Redditch | 17 | 15 | 22 | | 3 | 54 | 8 |
| Julie Swain | Kingfisher Harriers | 21 | 17 | 26 | | 3 | 64 | 9 |
| Jennifer Dale | BRAT Club | 2 | | 2 | | 2 | 4 | |
| Tamara Freeman | Bromsgrove & Redditch | 4 | | 5 | | 2 | 9 | |
| Aimee Palace | Cobra | 8 | 4 | | | 2 | 12 | |
| Megan Judge | Malvern Joggers | 7 | | 7 | | 2 | 14 | |
| Victoria Moffett | Unattached | | 10 | 13 | | 2 | 23 | |
| Lisa Cartwright | Bournville Harriers | 12 | | 12 | | 2 | 24 | |
| Joanna Jozwik | Unattached | | 9 | 18 | | 2 | 27 | |
| Heather Douglas | Unattached | | 13 | 16 | | 2 | 29 | |
| Jennifer Lipscombe | Bromsgrove & Redditch | | 12 | 20 | | 2 | 32 | |
| Selina Topham | Kidderminster and Stourport AC | 18 | | 14 | | 2 | 32 | |
| Juliette Warburton | Bromsgrove & Redditch | 19 | | 24 | | 2 | 43 | |
| Eloise Lee | BRAT Club | | 3 | | | 1 | 3 | |
| Emily Monk | Halesowen | | | 3 | | 1 | 3 | |
| Nicola Sykes | Bournville Harriers | 3 | | | | 1 | 3 | |
| Daisy Wilson | BRAT Club | | | 4 | | 1 | 4 | |
| Tegan Parsons | Evesham Vale Runners | DNS | 5 | DNS | | 1 | 5 | |
| Grace Allen | Stourbridge RC | 6 | | | | 1 | 6 | |
| Becky Hardie | Black Pear Joggers | | | 8 | | 1 | 8 | |
| Charlotte Geggie | Unattached | 13 | | | | 1 | 13 | |
| Esther Collacott | Unattached | 14 | | | | 1 | 14 | |
| Clare Grennan | Kingfisher Harriers | | 16 | | | 1 | 16 | |
| Lisa Crowe | Cobra RC | | | 19 | | 1 | 19 | |
| Ewelina Skolimowka | Black Pear Joggers | 20 | | | | 1 | 20 | |
| Laura Plummer | Black Pear Joggers | | | 21 | | 1 | 21 | |
| Sophie Wiseman | Unattached | | | 23 | | 1 | 23 | |
| Emma Gardner | Pershore Plum Plodders | | | 25 | | 1 | 25 | |
| | | | | | | | | |
| F35 | | | | | | | | |
| Name | Club | Hagley | Redditch | Droitwich | Clent | Races Finished | Total for series | Series Position |
| Monica Baptista | Bournville Harriers | 3 | 3 | 1 | | 3 | 7 | 1 |
| Louise Beasley | BRAT Club | 7 | 5 | 3 | | 3 | 15 | 2 |
| Linda Howell | Bournville Harriers | 2 | 2 | DNS | | 2 | 4 | |
| Sarah Rock | Bournville Harriers | 6 | 4 | DNS | | 2 | 10 | |
| Katy Barden | Bromsgrove & Redditch | | 1 | | | 1 | 1 | |
| Louise Collins | Stourbridge RC | 1 | | | | 1 | 1 | |
| Anna Borecka | Black Pear Joggers | | | 2 | | 1 | 2 | |
| Hayley Morris | Kidderminster and Stourport AC | | | 4 | | 1 | 4 | |
| Rachel Davies | Unattached | 4 | | | | 1 | 4 | |
| Rebecca Smith | Unattached | | | 5 | | 1 | 5 | |
| Samantha Love | Halesowen | 5 | | | | 1 | 5 | |
| | | | | | | | | |
| F40 | | | | | | | | |
| Name | Club | Hagley | Redditch | Droitwich | Clent | Races Finished | Total for series | Series Position |
| Claire Jackson | BRAT Club | 4 | 3 | 5 | | 3 | 12 | 1 |
| Emma Fordham | Barnt Green Chuggers | 3 | 4 | 6 | | 3 | 13 | 2 |
| Melanie Hepke | Bromsgrove & Redditch | | 1 | 2 | | 2 | 3 | |
| Deborah Parker | Malvern Joggers | 2 | | 3 | | 2 | 5 | |
| Jo Hounsell-Hardy | Bromsgrove & Redditch | | 2 | 4 | | 2 | 6 | |
| Anna Harvey | Unattached | 5 | 5 | DNS | | 2 | 10 | |
| Lucy Cambridge | Wolverhampton & Bilston | | | 1 | | 1 | 1 | |
| Samantha Mole | Halesowen Tri | 1 | | | | 1 | 1 | |
| Clair Gahir | Halesowen | 6 | | | | 1 | 6 | |
| Sam Dolan | Unattached | | | 7 | | 1 | 7 | |
| Mary Jeynes | Black Pear Joggers | | | 8 | | 1 | 8 | |
| Bridget Haw | Kingfisher Harriers | | | 9 | | 1 | 9 | |
| Keely Hawkes | Unattached | | | 10 | | 1 | 10 | |
| Jill Goode | Droitwich AC | | | 11 | | 1 | 11 | |
| | | | | | | | | |
| F45 | | | | | | | | |
| Name | Club | Hagley | Redditch | Droitwich | Clent | Races Finished | Total for series | Series Position |
| Caroline Lambert | Halesowen | 1 | 2 | 6 | | 3 | 9 | 1 |
| Jane Pugh | Action Heart | 2 | 4 | 9 | | 3 | 15 | 2 |
| Julie Dale | Halesowen | | 1 | 5 | | 2 | 6 | |
| Smantha Hatton | Unattached | 4 | 5 | | | 2 | 9 | |
| Amanda Duncan | Malvern Joggers | 3 | | 8 | | 2 | 11 | |
| Helen Tromans | Dudley & Kingswinford | | | 1 | | 1 | 1 | |
| Debbie Fowler | Bromsgrove & Redditch | | | 2 | | 1 | 2 | |
| Julia Blake | Bromsgrove & Redditch | | 3 | | | 1 | 3 | |
| Lorraine Griffiths | Black Pear Joggers | | | 3 | | 1 | 3 | |
| Tracy McIvor | Unattached | | | 4 | | 1 | 4 | |
| Jayne Wiseman | Unattached | | 6 | | | 1 | 6 | |
| Jacqui Elson Whittaker | Dudley & Kingswinford | | | 7 | | 1 | 7 | |
| Ann Hewlett | Pershore Plum Plodders | | | 10 | | 1 | 10 | |
| Jackie Turner | Pershore Plum Plodders | | | 11 | | 1 | 11 | |
| Jacqui Benson | Unattached | | | 12 | | 1 | 12 | |
| Nancy Ingram | Kidderminster and Stourport AC | | | 13 | | 1 | 13 | |
| | | | | | | | | |
| F50 | | | | | | | | |
| Name | Club | Hagley | Redditch | Droitwich | Clent | Races Finished | Total for series | Series Position |
| Sally Spencer | Halesowen | 1 | 1 | 1 | | 3 | 3 | 1 |
| Julie Caseley | Malvern Joggers | 2 | 3 | 3 | | 3 | 8 | 2 |
| Sarah Richardson | Bromsgrove & Redditch | | 2 | 2 | | 2 | 4 | |
| Alison Priest | Malvern Joggers | 3 | | 4 | | 2 | 7 | |
| Pat Fletcher | Kidderminster and Stourport AC | 4 | 5 | DNS | | 2 | 9 | |
| Debbie Simpson | Bromsgrove & Redditch | | 4 | 6 | | 2 | 10 | |
| Caryl Gibson | | 5 | | | | 1 | 5 | |
| Karen Hinks | Pershore Plum Plodders | | | 5 | | 1 | 5 | |
| Lynda Broadway | Malvern Joggers | 6 | | | | 1 | 6 | |
| Karen Cooper | Pershore Plum Plodders | | | 7 | | 1 | 7 | |
| Jayne Wiseman | Unattached | | | 8 | | 1 | 8 | |
| Pam Manning | ??? | | | 9 | | 1 | 9 | |
| S Price | Pershore Plum Plodders | | | 10 | | 1 | 10 | |
| Debbie Richards | Dudley & Kingswinford | | | 11 | | 1 | 11 | |
| | | | | | | | | |
| F60 | | | | | | | | |
| Name | Club | Hagley | Redditch | Droitwich | Clent | Races Finished | Total for series | Series Position |
| Joan Clarke | Stourbridge RC | 1 | 1 | 1 | | 3 | 3 | 1 |
| Christine Sedman Smith | Kidderminster and Stourport AC | | | 2 | | 1 | 2 | |
| Pauline Mogg | Kingfisher Harriers | | | 3 | | 1 | 3 | |
| | | | | | | | | |
| M/Open | | | | | | | | |
| Name | Club | Hagley | Redditch | Droitwich | Clent | Races Finished | Total for series | Series Position |
| Tom Isherwood | Stourbridge RC | 2 | 2 | 4 | | 3 | 8 | 1 |
| Mark Tanner | Bromsgrove & Redditch | 8 | 5 | 13 | | 3 | 26 | 2 |
| Matt Allen | Halesowen | 33 | 9 | 11 | | 3 | 53 | 3 |
| Robert Humphries | Bromsgrove & Redditch | 17 | 20 | 21 | | 3 | 58 | 4 |
| Sebastien Nicolas | Stourbridge RC | 26 | 25 | 33 | | 3 | 84 | 5 |
| Daniel Reed | Unattached | 27 | 30 | 41 | | 3 | 98 | 6 |
| Arthur Bibbey | Kingfisher Harriers | 32 | 33 | 42 | | 3 | 107 | 7 |
| James Marshall | Unattached | | 3 | 3 | | 2 | 6 | |
| Tom Solmon | Unattached | 5 | 1 | DNS | | 2 | 6 | |
| Oscar Barbour | Stratford Upon Avon AC | 3 | DNS | 5 | | 2 | 8 | |
| Malcolm Duff | Bromsgrove & Redditch | | 4 | 6 | | 2 | 10 | |
| Sam Fisher | Howgill Harriers | | 10 | 1 | | 2 | 11 | |
| Rob Bowery | Black Pear Joggers | 7 | | 8 | | 2 | 15 | |
| Adam Parr | Bromsgrove & Redditch | | 7 | 9 | | 2 | 16 | |
| Matthew Pollard | Bournville Harriers | 9 | DNS | 7 | | 2 | 16 | |
| Andrew Freeman | Bromsgrove & Redditch | 10 | | 10 | | 2 | 20 | |
| Ben De Laune | BRAT Club | 13 | 14 | | | 2 | 27 | |
| Dean Hocking | Unattached | | 13 | 14 | | 2 | 27 | |
| Gavin Moorhead | Bromsgrove & Redditch | | 17 | 12 | | 2 | 29 | |
| Peter Dear | Halesowen | | 11 | 19 | | 2 | 30 | |
| Tom Richardson | Bromsgrove & Redditch | | 15 | 16 | | 2 | 31 | |
| Kevin Rogers | Unattached | 15 | | 20 | | 2 | 35 | |
| Adam Crompton | Stourbridge RC | 14 | DNS | 22 | | 2 | 36 | |
| Chris Anthony | BRAT Club | 12 | 26 | DNS | | 2 | 38 | |
| Daniel Badger | Almost Athletes | 19 | 21 | DNS | | 2 | 40 | |
| Samuel Percival | Unattached | 20 | 24 | | | 2 | 44 | |
| Guy Walton | Cobra | 21 | | 28 | | 2 | 49 | |
| Nathan Fidler | Unattached | | 28 | 27 | | 2 | 55 | |
| Robert Dowse | BRAT Club | 24 | | 31 | | 2 | 55 | |
| James Kent | Black Pear Joggers | 23 | | 35 | | 2 | 58 | |
| Simon Wright | Droitwich AC | 28 | | 36 | | 2 | 64 | |
| Dan Bristow | Unattached | | 29 | 37 | | 2 | 66 | |
| Richard Harper | Kingfisher Harriers | 31 | 35 | | | 2 | 66 | |
| Darren Cox | Kings Heath Running Club | | 31 | 38 | | 2 | 69 | |
| Simon Lanckham | BRAT Club | 1 | | | | 1 | 1 | |
| Richard Smith | Worcester AC | | | 2 | | 1 | 2 | |
| Roger Mallard | Halesowen | 4 | DNS | DNS | | 1 | 4 | |
| Ben Beaumont | BRAT Club | 6 | | | | 1 | 6 | |
| John McKeon | Bournville Harriers | | 6 | | | 1 | 6 | |
| Huw Jones | BRAT Club | | 8 | | | 1 | 8 | |
| Martin Cleaver | BRAT Club | 11 | | | | 1 | 11 | |
| Tim Hazelwood | Unattached | | 12 | | | 1 | 12 | |
| Anthony Warner | Bromsgrove & Redditch | | | 15 | | 1 | 15 | |
| Michael Petta | Evesham Vale Runners | | 16 | | | 1 | 16 | |
| Nick Forrest | BRAT Club | 16 | | | | 1 | 16 | |
| Mark Appleton | Bromsgrove & Redditch | | | 17 | | 1 | 17 | |
| David Gorton | Unattached | | 18 | | | 1 | 18 | |
| Rich Fain | Unattached | | | 18 | | 1 | 18 | |
| Steven Burch | Stourbridge RC | 18 | DNS | DNS | | 1 | 18 | |
| Sam Lake | Bromsgrove & Redditch | | 19 | | | 1 | 19 | |
| Ashley Greaves | Unattached | 22 | | | | 1 | 22 | |
| Tom Boden | Droitwich AC | | 22 | | | 1 | 22 | |
| Eddie Roberts | Kidderminster and Stourport AC | | 23 | | | 1 | 23 | |
| Johnathan Gray | Worcester Tri Club | | | 23 | | 1 | 23 | |
| Joseph Perini | Unattached | | | 24 | | 1 | 24 | |
| Alan Southwick | Black Pear Joggers | | | 25 | | 1 | 25 | |
| Shaun Mason | Unattached | 25 | | | | 1 | 25 | |
| Mark Connell | BRAT Club | | | 26 | | 1 | 26 | |
| Neil Bramwell | Unattached | | 27 | | | 1 | 27 | |
| Ian Whyatt | Stourbridge RC | 29 | | | | 1 | 29 | |
| Richard Beetlestone | Pershore Plum Plodders | | | 29 | | 1 | 29 | |
| Jack Baker | Unattached | | | 30 | | 1 | 30 | |
| Jordan Miller | Unattached | 30 | | | | 1 | 30 | |
| Jack Buckley | Unattached | | 32 | | | 1 | 32 | |
| Steve McNelis | Black Pear Joggers | | | 32 | | 1 | 32 | |
| Jeremy Jones | Black Pear Joggers | | | 34 | | 1 | 34 | |
| Sam Taaffe | Unattached | | 34 | | | 1 | 34 | |
| James Gapper | Kingfisher Harriers | | | 39 | | 1 | 39 | |
| Ben Hetherington | Unattached | | | 40 | | 1 | 40 | |
| Ned Cotton | Unattached | | | 43 | | 1 | 43 | |
| Nick S White | Unattached | | | 44 | | 1 | 44 | |
| Shaquille Palmer | Unattached | DNF | | | | 0 | 0 | |
| | | | | | | | | |
| M40 | | | | | | | | |
| Name | Club | Hagley | Redditch | Droitwich | Clent | Races Finished | Total for series | Series Position |
| Neil Ogden | Bromsgrove & Redditch | 2 | 2 | 3 | | 3 | 7 | 1 |
| David Mole | Unattached | 3 | 3 | 7 | | 3 | 13 | 2 |
| Simon Newman | Bournville Harriers | 5 | 4 | 5 | | 3 | 14 | 3 |
| Andrew Hall | Bournville Harriers | 4 | 5 | 6 | | 3 | 15 | 4 |
| John Searle | Bromsgrove & Redditch | 11 | 8 | 12 | | 3 | 31 | 5 |
| James Parker | Halesowen | 13 | 9 | 14 | | 3 | 36 | 6 |
| Matt Smith | Road Runners Club | 18 | 15 | 21 | | 3 | 54 | 7 |
| Peter Taylor | Bromsgrove & Redditch | 20 | 18 | 28 | | 3 | 66 | 8 |
| Paul Little | Droitwich AC | | 1 | 1 | | 2 | 2 | |
| Andrew Butler | Halesowen | 1 | | 4 | | 2 | 5 | |
| Paul Webster | Sparkhill Harriers | 7 | 6 | DNS | | 2 | 13 | |
| Chris Attwood | Black Pear Joggers | 6 | | 8 | | 2 | 14 | |
| Lee Harvey | Unattached | 8 | 7 | DNS | | 2 | 15 | |
| Jim Clarke | Bournville Harriers | 16 | 10 | | | 2 | 26 | |
| James Douglas | Unattached | 12 | | 15 | | 2 | 27 | |
| Mark Ashton | Unattached | 15 | DNS | 16 | | 2 | 31 | |
| Chris Callow | Kings Heath Running Club | DNS | 13 | 19 | | 2 | 32 | |
| Hugh Wiseman | Bromsgrove & Redditch | 17 | | 17 | | 2 | 34 | |
| Andrew Hewston | Kingfisher Harriers | | 14 | 24 | | 2 | 38 | |
| Nigel Edgington | Unattached | | | 2 | | 1 | 2 | |
| Graeme Mallewwan | BRAT Club | 9 | | | | 1 | 9 | |
| Stephen Rivers | Lichfield RC | | | 9 | | 1 | 9 | |
| Darryll Thomas | Bromsgrove & Redditch | | | 10 | | 1 | 10 | |
| Dylan Gould | Kingfisher Harriers | 10 | | | | 1 | 10 | |
| Mark Lawton | Stourbridge RC | | 11 | | | 1 | 11 | |
| Steve Golla | Unattached | | | 11 | | 1 | 11 | |
| Dave Powner | Bournville Harriers | | 12 | | | 1 | 12 | |
| Matthew Slater | Bournville Harriers | | | 13 | | 1 | 13 | |
| Douglas Ward | Droitwich AC | 14 | | | | 1 | 14 | |
| Andy Fellowes | Kings Heath Running Club | | 16 | | | 1 | 16 | |
| Gary Jarvis | Unattached | | | 18 | | 1 | 18 | |
| Kevin Parsons | Unattached | | 19 | | | 1 | 19 | |
| Scott Davenport | West Midlands Police | 19 | | | | 1 | 19 | |
| Adam Taylor | Droitwich AC | | | 20 | | 1 | 20 | |
| Steve Moss | Unattached | 21 | | DNS | | 1 | 21 | |
| Mike Gahir | Halesowen | 22 | | | | 1 | 22 | |
| P J D'Rozario | Unattached | | | 22 | | 1 | 22 | |
| Andy Campbell | Unattached | 23 | | | | 1 | 23 | |
| Niel Kirk | Kidderminster and Stourport AC | | | 23 | | 1 | 23 | |
| Martin Rogers | Bromsgrove & Redditch | | | 25 | | 1 | 25 | |
| Tony Colclough | Black Pear Joggers | | | 26 | | 1 | 26 | |
| Jamie Sircom | Halesowen | | | 27 | | 1 | 27 | |
| Stephen Bloomer | Stourbridge RC | DNS | DNS | DNS | | 0 | 0 | |
| | | | | | | | | |
| M45 | | | | | | | | |
| Name | Club | Hagley | Redditch | Droitwich | Clent | Races Finished | Total for series | Series Position |
| Rob Mole | Bromsgrove & Redditch | 4 | 2 | 1 | | 3 | 7 | 1 |
| Adrian Fowler | Bournville Harriers | 9 | 6 | 4 | | 3 | 19 | 2 |
| Simon Duck | Halesowen | 12 | 8 | 7 | | 3 | 27 | 3 |
| Robert Woodward | Stourbridge RC | 13 | 9 | 8 | | 3 | 30 | 4 |
| Danny Piesley | Cobra RC | 14 | 12 | 10 | | 3 | 36 | 5 |
| Phil Parsons | Evesham Vale Runners | 3 | 1 | DNS | | 2 | 4 | |
| Adam Harris | Stourbridge RC | | 7 | | | 2 | 7 | |
| David Lewis | Halesowen | | 5 | 3 | | 2 | 8 | |
| Dean Hartshorne | Bromsgrove & Redditch | 6 | 3 | | | 2 | 9 | |
| Graham Birch | Kenilworth Runners | 8 | 4 | | | 2 | 12 | |
| Mike Harvey | Unattached | 15 | 13 | | | 2 | 28 | |
| Gary Pitcher | Unattached | 17 | 16 | | | 2 | 33 | |
| Mark Hadley | Halesowen | 1 | | | | 1 | 1 | |
| Nick Hitchings | Worcester AC | | | 2 | | 1 | 2 | |
| Richard Malin | Bromsgrove & Redditch | 2 | | | | 1 | 2 | |
| Ashley Harris | Droitwich AC | | | 5 | | 1 | 5 | |
| Stuart Pearson | Bournville Harriers | 5 | | | | 1 | 5 | |
| Joff Wright | Unattached | | | 6 | | 1 | 6 | |
| Carl Hatton | Bromsgrove & Redditch | 7 | | | | 1 | 7 | |
| Phil Johnson | Ledbury Harriers | | | 9 | | 1 | 9 | |
| Daren Thompson | Dudley Kindswinford | 10 | | | | 1 | 10 | |
| Mike Green | Kings Heath Running Club | | 10 | | | 1 | 10 | |
| David Harte | Bournville Harriers | 11 | | DNS | | 1 | 11 | |
| Keith Spokes | Stourbridge RC | | 11 | | | 1 | 11 | |
| Nick Wilkins | Droitwich AC | | | 11 | | 1 | 11 | |
| Paul Ingram | Kidderminster and Stourport AC | | | 12 | | 1 | 12 | |
| Kevin McDowell | Droitwich AC | | | 13 | | 1 | 13 | |
| Ernie Heaton | Kingfisher Harriers | | 14 | | | 1 | 14 | |
| Rory Hancock | Kingfisher Harriers | | | 14 | | 1 | 14 | |
| Stewart Prics | Unattached | | | 15 | | 1 | 15 | |
| Taz Yousaf | Bournville Harriers | | 15 | | | 1 | 15 | |
| Neil Brown | Stourbridge RC | 16 | | | | 1 | 16 | |
| Mike Fidler | Unattached | | 17 | | | 1 | 17 | |
| Mike Spragg | Malvern Joggers | 18 | | | | 1 | 18 | |
| | | | | | | | | |
| M50 | | | | | | | | |
| Name | Club | Hagley | Redditch | Droitwich | Clent | Races Finished | Total for series | Series Position |
| Bill Nock | Halesowen | 3 | 1 | 1 | | 3 | 5 | 1 |
| Ian Keyte | Bromsgrove & Redditch | 2 | 2 | 2 | | 3 | 6 | 2 |
| Ned Lammas | Evesham Vale Runners | 4 | 3 | 5 | | 3 | 12 | 3 |
| Martin Ludford | BRAT Club | 8 | 10 | 9 | | 3 | 27 | 4 |
| Phil Richardson | Bromsgrove & Redditch | 10 | 8 | 10 | | 3 | 28 | 5 |
| Kevin Burke | Stourbridge RC | 9 | 11 | 13 | | 3 | 33 | 6 |
| Richard Dugdale | Barnt Green Chuggers | 12 | 12 | 15 | | 3 | 39 | 7 |
| Mick Hudson | Kidderminster and Stourport AC | 25 | 24 | 37 | | 3 | 86 | 8 |
| Jon Davis | Kingfisher Harriers | 30 | 25 | 40 | | 3 | 95 | 9 |
| Stephen Thompson | BRAT Club | 5 | 6 | DNS | | 2 | 11 | |
| Andy Nock | Halesowen | | 7 | 11 | | 2 | 18 | |
| Mark Taylor | Unattached | 6 | DNS | 12 | | 2 | 18 | |
| Alex Morgan | Halesowen | | 9 | 16 | | 2 | 25 | |
| Peter Hickman | Bournville Harriers | 13 | | 14 | | 2 | 27 | |
| Adrian Phillips | Stourbridge RC | 14 | 14 | DNS | | 2 | 28 | |
| Brian Alner | Bromsgrove & Redditch | 16 | DNS | 17 | | 2 | 33 | |
| Richard Guest | Halesowen | | 16 | 19 | | 2 | 35 | |
| Richard Carney | BRAT Club | 18 | 18 | | | 2 | 36 | |
| John Coyne | Stourbridge RC | 20 | 17 | DNS | | 2 | 37 | |
| Steven Millington | Halesowen | 15 | | 22 | | 2 | 37 | |
| Ian Nutter | Bromsgrove & Redditch | | 13 | 26 | | 2 | 39 | |
| Steve Yates | Unattached | | 15 | 24 | | 2 | 39 | |
| Dave Jackson | Unattached | 24 | 23 | | | 2 | 47 | |
| Paul Samuels | Bournville Harriers | 26 | 21 | | | 2 | 47 | |
| Steve Roode | Malvern Joggers | 22 | | 31 | | 2 | 53 | |
| Richard Dawson | Stourbridge RC | 29 | | 34 | | 2 | 63 | |
| Simon Richards | Barnt Green Chuggers | 31 | | 41 | | 2 | 72 | |
| Darren Riley | Sparkhill Harriers | 1 | | | | 1 | 1 | |
| Huw Jones | BRAT Club | | | 3 | | 1 | 3 | |
| Kevin Monk | Halesowen | | | 4 | | 1 | 4 | |
| Paul Collins | Bromsgrove & Redditch | | 4 | | | 1 | 4 | |
| Daren Thompson | Dudley Kingswinford RC | | 5 | | | 1 | 5 | |
| Kevin Lanckham | Unattached | | | 6 | | 1 | 6 | |
| Brian Currier | Kidderminster and Stourport AC | | | 7 | | 1 | 7 | |
| David Hall | Barnt Green Chuggers | 7 | | | | 1 | 7 | |
| Andy Maybury | Black Pear Joggers | | | 8 | | 1 | 8 | |
| David Sheppard | Stourbridge RC | 11 | DNS | DNS | | 1 | 11 | |
| Mark Oldham | City of Norwich | 17 | DNS | DNS | | 1 | 17 | |
| Sean Robinson | Unattached | | | 18 | | 1 | 18 | |
| Nick White | Unattached | 19 | | | | 1 | 19 | |
| Stephen Darbyshire | Droitwich AC | | 19 | | | 1 | 19 | |
| David Pound | Pershore Plum Plodders | | | 20 | | 1 | 20 | |
| Steve Doswell | Bournville Harriers | | 20 | | | 1 | 20 | |
| Barry Cuff | Unattached | 21 | | | | 1 | 21 | |
| Simon Thompson | Halesowen | | | 21 | | 1 | 21 | |
| Paul Bradley | Stourbridge RC | | 22 | | | 1 | 22 | |
| Errol Cumberbatch | Stourbridge RC | 23 | | | | 1 | 23 | |
| Paul McGinnes | Black Pear Joggers | | | 23 | | 1 | 23 | |
| Rod Taylor | Droitwich AC | | | 25 | | 1 | 25 | |
| Andy Millington | Bromsgrove & Redditch | | | 27 | | 1 | 27 | |
| Mike Anstey | Malvern Joggers | 27 | | | | 1 | 27 | |
| Gerald Sanders | Amazing Feet RC | | | 28 | | 1 | 28 | |
| Joseph Atherton | | 28 | | | | 1 | 28 | |
| Mark Amyes | Black Pear Joggers | | | 29 | | 1 | 29 | |
| Simon Gardner | Pershore Plum Plodders | | | 30 | | 1 | 30 | |
| Trevor Clark | Pershore Plum Plodders | | | 32 | | 1 | 32 | |
| Andy Coward | Pershore Plum Plodders | | | 33 | | 1 | 33 | |
| Mike Whitehouse | Unattached | | | 35 | | 1 | 35 | |
| Nigel Fain | Black Pear Joggers | | | 36 | | 1 | 36 | |
| Tim ??? | Black Pear Joggers | | | 38 | | 1 | 38 | |
| Nick Griffiths | Pershore Plum Plodders | | | 39 | | 1 | 39 | |
| Peter Lymer | Droitwich AC | | | 42 | | 1 | 42 | |
| Nick C White | Unattached | | | 43 | | 1 | 43 | |
| | | | | | | | | |
| M60 | | | | | | | | |
| Name | Club | Hagley | Redditch | Droitwich | Clent | Races Finished | Total for series | Series Position |
| John Hill | Halesowen | 1 | 1 | 1 | | 3 | 3 | 1 |
| Terence Bedington | Worcester AC | 3 | 2 | 2 | | 3 | 7 | 2 |
| David Hibbitt | Worcester AC | 4 | 5 | 4 | | 3 | 13 | 3 |
| Ron Anderson | Unattached | 7 | 4 | 8 | | 3 | 19 | 4 |
| Steve Phillips | Worcester AC | 9 | 6 | 10 | | 3 | 25 | 5 |
| John Cheel | Bournville Harriers | 11 | 8 | 7 | | 3 | 26 | 6 |
| Philip Elwell | Stourbridge RC | 10 | 9 | 11 | | 3 | 30 | 7 |
| Doug Richards | Kingfisher Harriers | 12 | 10 | 12 | | 3 | 34 | 8 |
| Paul Allen | Halesowen | 5 | 3 | | | 2 | 8 | |
| Roger Davies | Unattached | DNS | 7 | 5 | | 2 | 12 | |
| Ian Walwyn | Malvern Joggers | 8 | | 6 | | 2 | 14 | |
| Primo Zavoli | Bournville Harriers | 15 | | 13 | | 2 | 28 | |
| Martin Willmott | Kidderminster and Stourport AC | 2 | | | | 1 | 2 | |
| Graham Lawrence | Solihull & SH AC | | | 3 | | 1 | 3 | |
| David Lloyd | Halesowen | 6 | | | | 1 | 6 | |
| Paul Bradley | Kidderminster and Stourport AC | | | 9 | | 1 | 9 | |
| John Amos | Kidderminster and Stourport AC | 13 | | | | 1 | 13 | |
| Chris Harrison | Unattached | 14 | | | | 1 | 14 | |
| | | | | | | | | |
| M70 | | | | | | | | |
| Name | Club | Hagley | Redditch | Droitwich | Clent | Races Finished | Total for series | Series Position |
| Geoffrey Jones | Worcester AC | 1 | 1 | | | 2 | 2 | |
| Ron Payne | Kidderminster and Stourport AC | 2 | | 1 | | 2 | 3 | |
| Bernard Lloyd | Unattached | | 2 | | | 1 | 2 | |
| Robert Colston | Droitwich AC | | | 2 | | 1 | 2 | |
| | | | | | | | | |