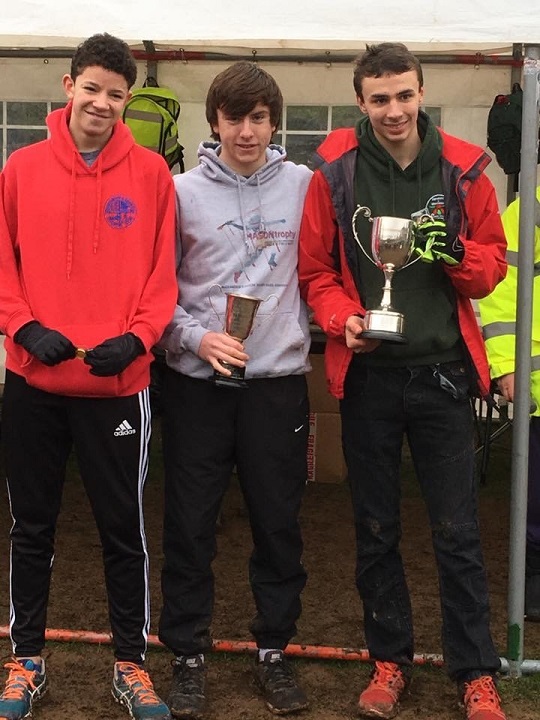 Worcestershire and Warwickshire County Cross Country Championships
Warley Woods
Saturday 10 January 2016
Joe Smith is the first Senior Worcestershire County Champion from B&R since Paul Collins won in 1994.
Ellen Bowen wins U15 Girls and Conor Smith wins U17 Men.
Ian Keyte first M50
Event report by Cath Mijovic
Bromsgrove and Redditch young athletes excelled at the Worcestershire County Cross Country championships held at Warley Woods in Sandwell on Saturday 9th January. Competing over a hilly course with mixed going underfoot they came away with 7 individual medals and 2 team championships. The most successful team was the under 15 girls who filled the first four places overall in the race which also incorporated athletes from neighbouring Warwickshire. They were led home over the 4k course by Ellen Bowen who claimed her first county championship. She was followed by Alice Battey who won the silver medal, Amy Mijovic-Couldwell in the bronze medal position and Anna Nicod in fourth. With 3 to score for the team championship they achieved the best possible points score. With Anna in 4th, Ellie Moss in 9th and Beth Sykes in 14th Bromsgrove and Redditch were also the first B team.
Conor Smith won the under 17 men's championship by over 40 seconds over a 6k course. He led the team to a championship winning performance with Gareth Richardson taking the bronze medal in 3rd place and Alex Johnson completing the team in 8th.
Meanwhile Tom Deykin took the bronze medal in the under 15 boys' race and Ruth Gameson took bronze in the under 20 women's race.
Good performances were also achieved by Sophie Groom 8th and Lauren Sykes 21st in the under 13 girls' race, Harrison Mayne 11th and Josh Keyte 13th in the under 13 boys' event, David Peaty 13th in the under 15 boys' race, Megan Nicod 7th in the under 17 girls' race and Lewis Anderson in the under 20 men's race.
Coach Vince Rollason has guided all the medal-winning athletes to success. The athletes who finished the first 6 places in their race have been selected to represent Worcestershire in the inter-county championships at Cofton Park on March 12th where they will be hoping for further good performances
Seniors and masters performances:
(overall Worcs county position, time, athlete, county category position)
3 23:06 Sally Hogan – SenW 3
4 23:23 Katy Barden – SenW 4
6 24:30 Tamara Freeman – SenW 6
9 25:45 Thomasina Ball – SenW 7
12 26:36 Melanie Hepke – WM40 4
26 29:42 Charlotte Ball – WM50 2
28 29:49 Ann Stuart – WM50 3
29 29:54 Jane Anderson – WM50 4
33 30:43 Dagmar Prinzing – WM40 12
37 31:09 Debbie Simpson – WM50 8
40 31:46 Juliette Warburton – SenW 18
48 32:53 Holly Smith – SenW 21
A very good show and turn out which meant the ladies recorded 1st a team as well as 1st b/c/and d teams.
1 32:26 Joe Smith – SenM 1
6 34:46 Simon Lankham – SenM 6
23 37:51 Mark Appleton – SenM 19
29 38:48 Ian Keyte – MM50 1
33 39:00 Calvin Scoltock – MM40 7
37 39:42 Steve Brooks – MM40 10
38 39:56 Sean Bowden – SenM 25
49 40:54 Rob Humphries – SenM 30
63 43:26 Phillip Anderson – MM50 8
68 45:14 Paul Edmonds – SenM 38
86 48:51 Alan Stanley – MM50 14
93 53:14 Len Quartly – MM70 2
95 60:03 Roger Beacham – MM70 3
Read the Redditch Standard write up of the juniors and seniors