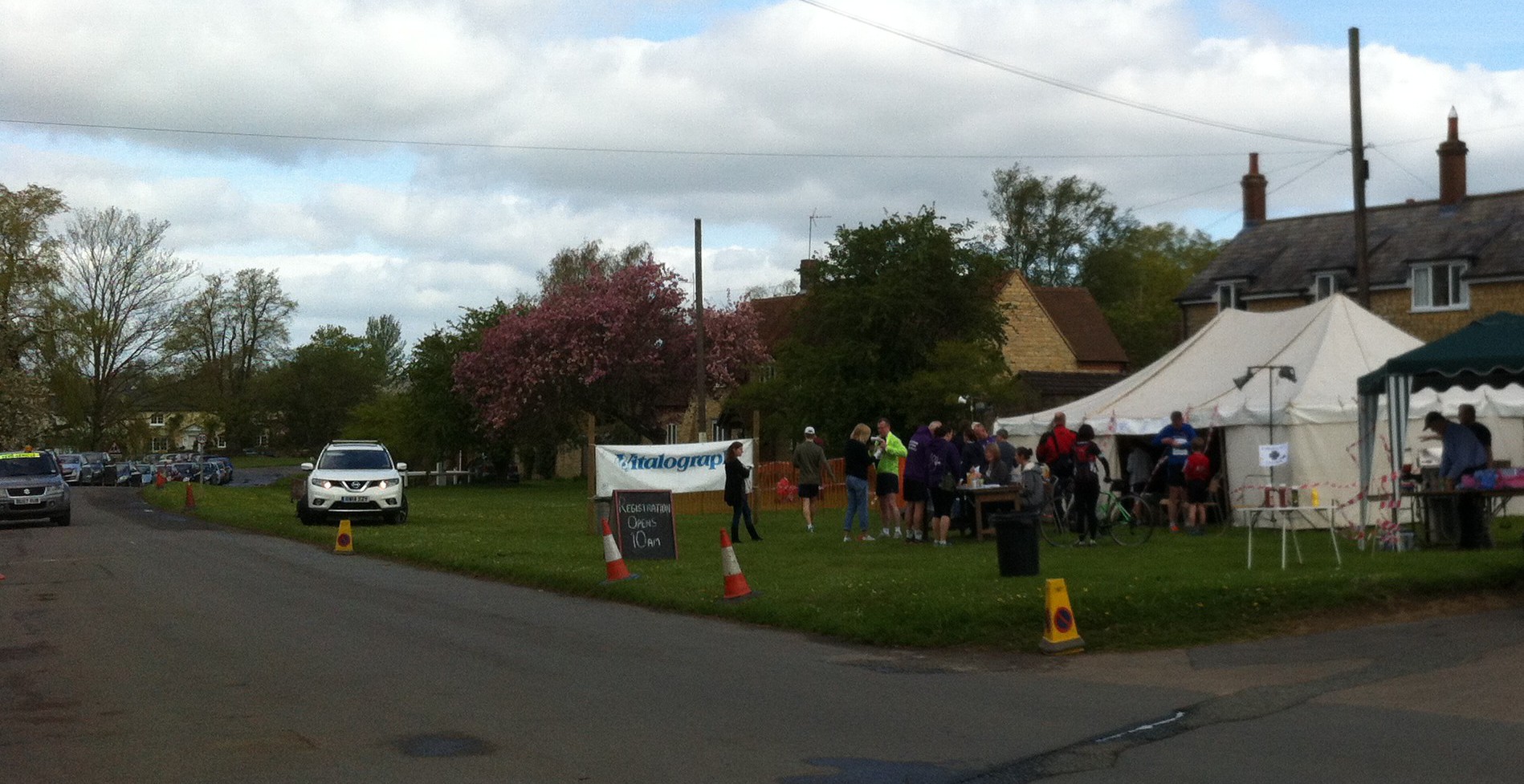 The Thornborough 10 Mile Road Race and 5 Mile Fun Run are held annually on May Day Bank Holiday in the village of Thornborough, Buckinghamshire, hosted by the local sports and social club.
This year there were 34 running in the 10 mile race, with 100 in the 5 mile fun run. The 10 mile race has had an average field of about 42 runners over the last 10 years.
The event takes over the village centre – you register in the marquee, hot food stall is on the green, tea/coffee served in the church, and the event is sponsored by the local pub.
The course is a five mile loop through countryside. It is undulating, bordering on slightly hilly – a couple of climbs, 80ft over half a mile each, followed by a 120ft descent over mile three. Repeat on lap two for the 10 mile race.
The roads are open to traffic, but there is hardly any.
For such a small event, the organisation and support is impressive. There are mile markers, regular water stations with drinks and sponges, plenty of helpful marshals, and a lead car to make sure the front runners don't get lost.
There is no chip timing, no race photo, no advance entry. The event doesn't advertise a UKA Licence, so the results won't appear on Power of 10 or RunBritain. What you do get for your £10 entry fee (£5 for fun run) is a very pleasant race, free from all those distractions.
The 10 mile race was won by Carl Tucker in 62 mins 20 secs. The first woman was Emily Bowen in 72 mins 14 secs.
The 5 mile race was won by Adam Haylock in 30 mins 13 secs. The first woman was Helene Greenwood in 32 mins 33 secs.
Races like this are the perfect foil to some of the huge commercial events. The Thornborough 10 has been going for 30 years, and it deserves continued success.
Report by Matt