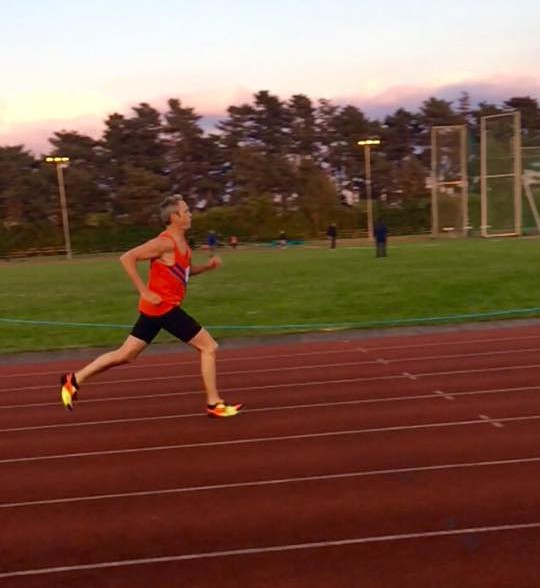 Midland Veterans Track and Field League – Stourport, Thursday 30 April 2015
Report by Calvin
Photo by Clare Neylon
Bromsgrove & Redditch Athletic Club competed at Stourport in the South Division of the Midland Veteran's Track & Field League on Thursday 30th April on what started of as a glorious sunny evening but soon turned very cold once the sun had gone down. All the officials were wrapped up in thick jackets, woolly hats and gloves.
First on the track was the Men's Over 60 100m; B&R were missing Peter Mould, their top Over 60 sprinter, due to illness. Clive Rose stepped into his shoes to compete in this race, this being his 1st race on the track ever for the club. He finished 6th gaining the club 3 points which would turn out to be critical as the evening progressed. Rose later went on to finish 2nd in the Over 60s 1500m in a time of 5:37, only 4 seconds behind the winner, Jon Hill from Halesowen.
First on the field was the Over 60s Pole Vault. There were only two clubs with over 60s brave, or stupid, enough to attempt the pole vault. Dave Hope, Worcester Team Manager, was competing for Worcester and Clive Brown for B&R. The whole evening was always going to be close between Worcester and B&R so these two battled it out to gain their respective clubs maximum points. Both athletes failed on there first attempt at 1m50, Brown cleared the opening height at his second attempt, whereas Hope failed again. Hope cleared the height on his 3rd and final attempt, so the bar moved up to 1m60. Hope cleared this at his first attempt, Brown at his 2nd attempt. So once again the bar moved up to 1m70. Hope cleared the height to gain his club, Worcester, the maximum of 8 points, Brown failed his 3 attempt at this height but gained B&R 7 points for finishing 2nd and set a new over 65 club record for his best height of 1m60, equalling his over 60 club record set in 2011. Brown went on to finish 6th in the over 60s Shot Putt for another 3 points.
Next on the track for the men was the Over 70s 100m with Len Quartly finishing 4th for B&R in a time of 16.8 seconds, beating his own club record of 17.0 seconds. Quartly also competed in the Over 60s 2K walk and even though his legs were tired from running the London Marathon 4 days before finished 3rd.
Mike Neylon returned to compete for B&R after spending a few years at Halesowen. Neylon finished 3rd in the Men's Over 50s 100m. He also competed in the Over 50s 400m finishing 2nd, Over 50s Hammer finishing a respectable 4th on the first time he has competed in this event and the Over 50s High Jump were he came 2nd with a best height of 1m40 breaking the 21 year old club record of 1m35 set by Noel Deam back in 1994.
New B&R member Jason Cashmore went in the very competitive Men's Over 40s 100m, where less than half a second separated the first 5 men, Jason was 5th in this race and went on to win the Over 40s Triple Jump having not done Triple Jump since he was at School.
Russell Hingley won the Men's Over 35 100m for B&R in a time of 11.8 seconds. Martin Aspley-Davis followed this by also winning the Men's Over 35 400m for B&R in 53.7 seconds.
Rob Mole was due to run the Men's Over 40 400m for B&R but his legs were not up to it after running the London Marathon at the weekend. Therefore Team Manager, Calvin Scoltock, took the task on completing his lap of the track in exactly 60s to take 3rd place. Scoltock had already competed in the Men's Over 40 Pole Vault where he had also finished 3rd and then went on later in the evening to win the Over 40 1500m, a distance
he prefers.
Matt Henney scored maximum points for B&R by winning the Over 40 2k walk in a close battle with Bill Nock from Halesowen.
Andrew Freeman, after rushing back from Bournemouth, took 2nd place in the Over 35 1500m for B&R.
Other B&R performances on the field saw Vito Ricci take 4th place in the Over 40 Hammer after pulling a muscle while warming up and taking some practice throws. Steve Brooks won the Men's Over 40 High Jump for B&R gaining them another 8 points, with Pete Stewart from Worcester in 2nd place for 7 points. A new B&R member, Mo Abrar, competing for the first time won the Over 35 Javelin with a distance of 37m25.
Going into the last event of the men's competition, the 4 x 200m relay, B&R were winning the fixture with 1 point more than Worcester. Hingley took first leg for B&R and handed over to Cashmore with a clear lead, who maintained the lead passing on to Freeman who extended the lead, leaving Aspley-Davis to bring the baton home for the win in a new club record time of 1:42.3, wiping 2 seconds of the record set last year at the same venue. This secured B&R Men the won of the 1st fixture with 148 points from Worcester in 2nd place on 145 points.
In the Women's competition, first on the track saw Betty O'Gorman return to competing for the team after moving up to the Over 60 age group. She finished 4th in the 100m and 3rd in the 400m.
Next on the track for the Women was the Over 70s 100m with only Iris Holder from Worcester competing in this gaining Worcester the maximum of 8 points.
The Over 50 Women's 100m saw Mel Garland scoring another 8 points for Worcester winning in 14.9 seconds with B&R's Polly Gerner in 2nd place with 15.6 seconds for 7 points.
Deborah Ricci was next up for B&R in the Women's over 40 100m where she run under 15 seconds (14.8) to claim 3rd place. Ricci also ran in the Women's over 40 400m an hour later were she finished 2nd in 74.7 seconds.
B&R were missing their over 35 lady sprinter, Joanne Frost, due to an injury. So other members of the team who do not normally sprint or had to drop down an age category had to cover her events. Yasmine Al-Daftary took on the challenge of the Over 35 women's 100m, where she finished fourth. New B&R member Joanne Alexander replace Frost in the over 35 400m and come home in 4th place. Frost would have won the 100m and 400m and hopes to be back competing for the next fixture.
B&R were also missing their over 40 walk specialist, Sharon Tonks, so Al-Daftary replaced her in the women's over 40 2k walk finishing 4th and gaining the club another 5 points. Al-Daftary finished 5th in the over 40 Shot Putt.
B&R club secretary, Rita Brownlie, competed in the women over 60 2k walk, where like Al-Daftary she finished 4th and scored 5 points for the club. Brownlie also competed in the over 60 long jump where she claimed 3rd place.
The combined women's over 35 and over 40 1500m saw B&R's Mel Hepke and Becky Selvey fight it out in a close race with two Worcester 2nd claim member, Becky Freeman from Solihull and Amanda Steer from CLC Striders. There was nothing to separate the 4 of them at the front of the race for the first 3 laps, then with 300m to go Selvey kicked on to stretch the four of them out. Selvey took the win in 5:29.4 competing in the over 40 category, with Freeman 2nd in 5:30.8 to be 1st in the over 35 category, next over the line was Hepke in 5:34.7 dropping down an age category to finish 2nd in the over 35s and then Steer with 5:35.4 for 2nd place in the over 40 age group. Hepke had earlier in the evening won the women's over 35 high jump with a best height of 1m35.
Ann Stuart, who prefers road races and doesn't normally compete on the track, went in the women's over 50 1500m and finished 4th to gain B&R another 5 points.
B&R's over 50 field specialist, Julie Wakelam, competed in 3 field events over the 2 hour evening meeting. She was 2nd in the over 50 high jump, with a best height of 1.20 having failed at 1.25, with Worcester's Mel Garland clearing 1.25 as her best height. Wakelam was 2nd in the over 50 Javelin with a best throw of 21m90, the event was won by Midland Masters Ruth Bird with 23m33. The last event for Wakelam saw a win in the over 50 Shot Putt with a best distance of 6m77 only just beating Worcester's Garland with 6m67.
The final event of the evening was the Women's 4 x 200m relay where Gerner, Selvey, Alexander and Ricci brought the team home in 3rd place.
Overall results for the evening:
Men's
B&R 148 points
Worcester 145 points
Stratford 98 points
Midland Masters 87 points
Droitwitch & KSAC 83 points
Halesowen 77 points
Sparkhill 46 points
DASH 33 points
Women's
Worcester 146 points
B&R 117 points
Stratford 87 points
Halesowen 71 points
Sparkhill 49 points
MMAC 45 points
DASH 39 points
Droitwich & KSAC 25 points
The next fixture in the league is on Wednesday 27th May at The Dell.
Worcester's Men have been South Division Champions in this league 24 times out of the 25 years. B&R Team Manager, Calvin Scoltock, is hoping that this year will be the year that B&R can repeat the year that they beat Worcester as winners of the division under previous tem manger, Phil Carbutt's, leadership. It has been very close in recent years coming down to the last few events at the final fixture.