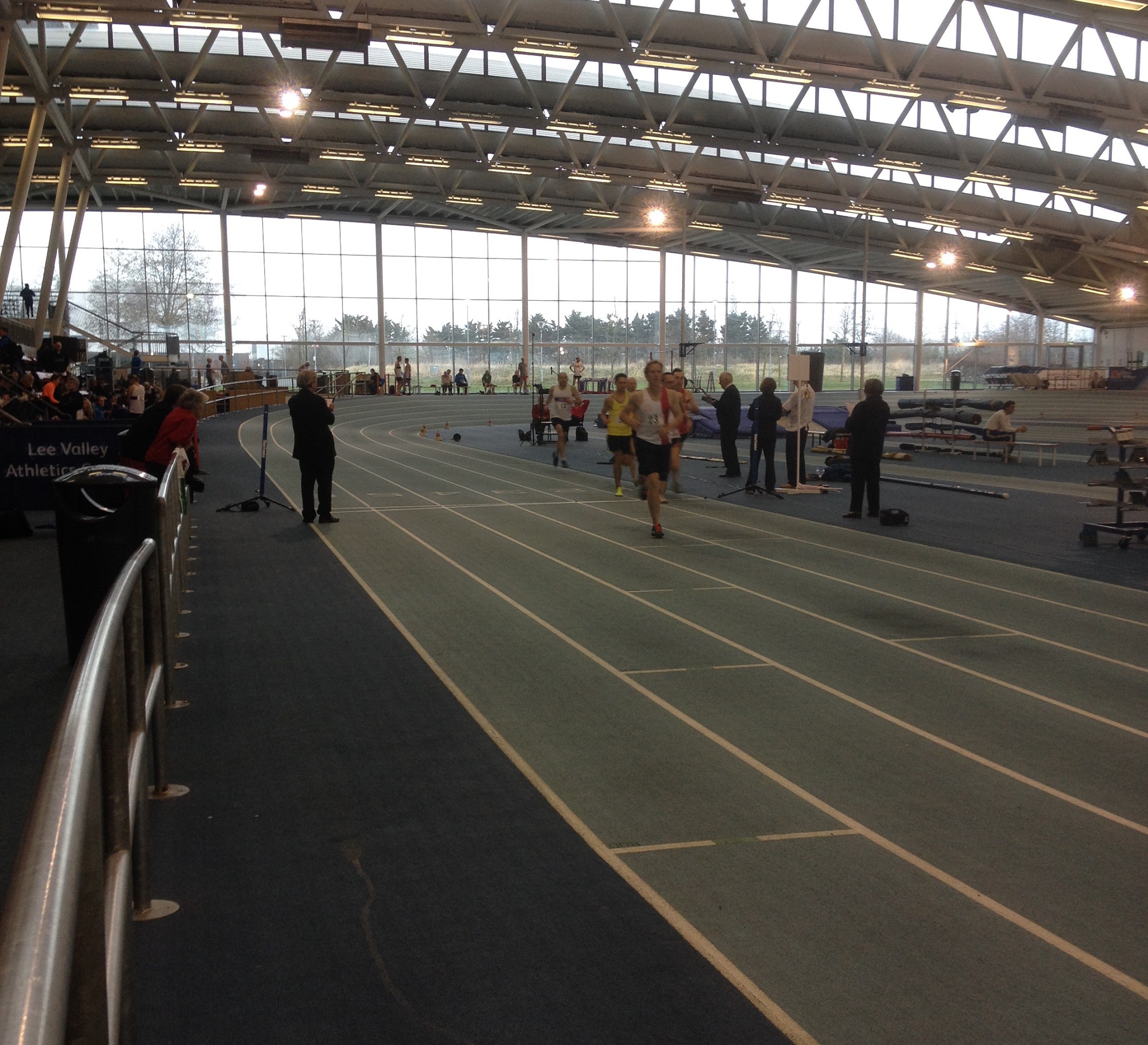 Four members of Bromsgrove & Redditch Athletic Club were selected to represent various regions at the Masters Indoor Inter-Area Competition in Lee Valley on Sunday 1 March 2015. Each region of the United Kingdom can select one athlete to represent them for each event of the competition with age ranges from Over 35s up to Over 70s.
Joanne Frost was selected to represent Wales, whereas Martin Aspley-Davies, Calvin Scoltock and Rita Brownlie were selected to represent Midlands.
Frost won the W35 long jump with a best jump of 5m34 with Helen Channon from Veteran AC in second place with 5m23. Frost was up against Channon again in the 60m and thought that Channon had got the better of her over the sprint. However, the photo finish showed that Frost had just beaten Channon on the line; Frost 8.09s, Channon 8.10s. Frost said that she would have liked to have gone under 8 seconds but was pleased with the win and performance having missed some training last year. Her performances in the long jump and 60m were also new B&RAC W35 indoor club records. Frost finished the day by anchoring the Welsh W35 team with a clear win in the 4 x 200m relay.
Brownlie ran as part of the Midland's W60 4 x 200m relay, which finished 3rd.
Aspley-Davis finished 3rd in the M35 60m hurdles with a time of 11.09s, he was 5th in the shot putt with 8m30. He then tackled the high jump, taking a break mid competition to run the 3000m where he knocked 36s off the B&RAC club record he set last year at the same competition. He returned to the high jump finishing 2nd overall with best height of 1m56. Not only did he break his own club record in the 3000m but he also set new B&RAC indoor M35 club records in the 60m hurdles, shot putt and high jump.
Scoltock claimed 3rd place in the 1500m with a time of 4:33.41, knocking 7 seconds off his best time for the distance indoors and only 3.41s off his best outdoors time. He also finished 3rd in the 800m a couple of hours later and was a little disappointed with the time of 2:15.13. This showed that he was still in the winter strength and conditioning phase of his training schedule and has yet to do any specific speed training this season, plus his legs were tired from the earlier 1500m. He was rewarded by breaking both the B&RAC M45 indoor 1500m and 800m club records.
Aspley-Davis and Scoltock were joined by Andy Flint from Telford AC and Michael Gardiner from Cheltenham in the M35 4 x 200m which they easily won. Gardiner was part of the M45 4 x 200m relay team which broke the M45 4 x 200m relay world record the previous week at the Barclaycard Arena in Birmingham.
The competition was won by the Southern Counties with 547 points, 2nd were Eastern with 485 points, Midland 3rd with 444 points, 4th Veterans AC with 380.5 points, 5th Wales with 293.5 points, 6th Northern with 141 points, 7th Northern Ireland with 104 points and 8th place was South West with 72 points.
Club records listed above still to be verified.
Photos and run report by Calvin