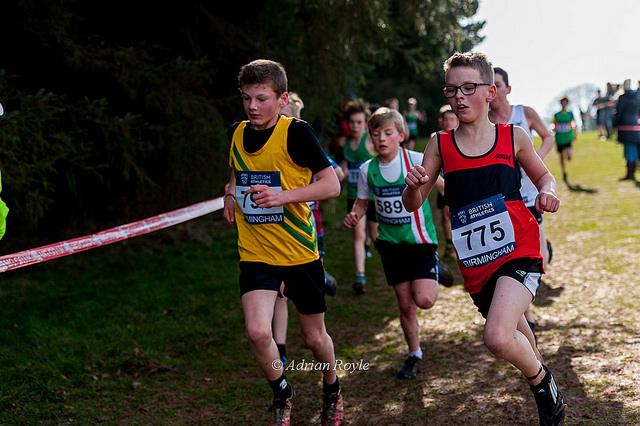 Sat 7th March 2015 – Cofton Park, Birmingham
UK Counties Athletic Union Inter Counties Cross Country Championship, including the World Trials and British Athletics Cross Challenge.
Run report by Joe Smith:
By performing well in their local County Cross Country Championships earlier in the year, athletes from across the UK had earned the right to compete for their county at Cofton Park. Finishing within the top nine at the County Championship was the standard required to guarantee a place.
Bromsgrove and Redditch athletes earned themselves a place in the Worcestershire team alongside runners from other clubs.
Conditions were much improved from what the B&R athletes had been used to over the season. It was a warm spring afternoon, and the ground was firm under foot making the races faster. The course however was tough and undulating, and a test for all athletes.
B&R athletes representing Worcestershire:
U13 Girls – 3km
Anna Nicod (210th, 14.55)
38th county out of 40.
U13 Boys – 3km
Alex Roberts (284th, 14:40)
39th county out of 40.
Individual and team performance of the day was the U15 Girls out of all the B&R athletes. This promising group of athletes continue to go from strength to strength. A fantastic cross country season from the girls, well done!
U15 Girls – 4km
Ellen Bowen (91st, 20:30)
Alice Battey (114th, 20.47)
Amy Mijovic-Couldwell (139th, 21.04)
10th county out of 41.
U15 Boys – 4.5km
Gareth Richardson (148th, 19.17)
40th county out of 41.
U17 Women – 5km
Ruth Gameson (210th, 25.48)
17th county out of 40.
U20 Women – 6km
Orianna Ball (133rd, 31:00)
U20 Men – 8km
Lewis Anderson (181st, 32:00)
Senior Women – 8k;
Tamara Ball (200th, 31:19)
Senior Men – 12km
Joe Smith (262nd, 44:00)
Simon Lanckham (263rd, 44:02)
Brilliant efforts from all ages groups as the athletes have done Worcestershire and Bromsgrove & Redditch proud.
Next up for B&R is the Saucony Midland 12 & 6 stage Road Relays at Sutton Park on Saturday 28th of March.
Photos by Adrian Royle via Flickr
Click here for David Ball's photos