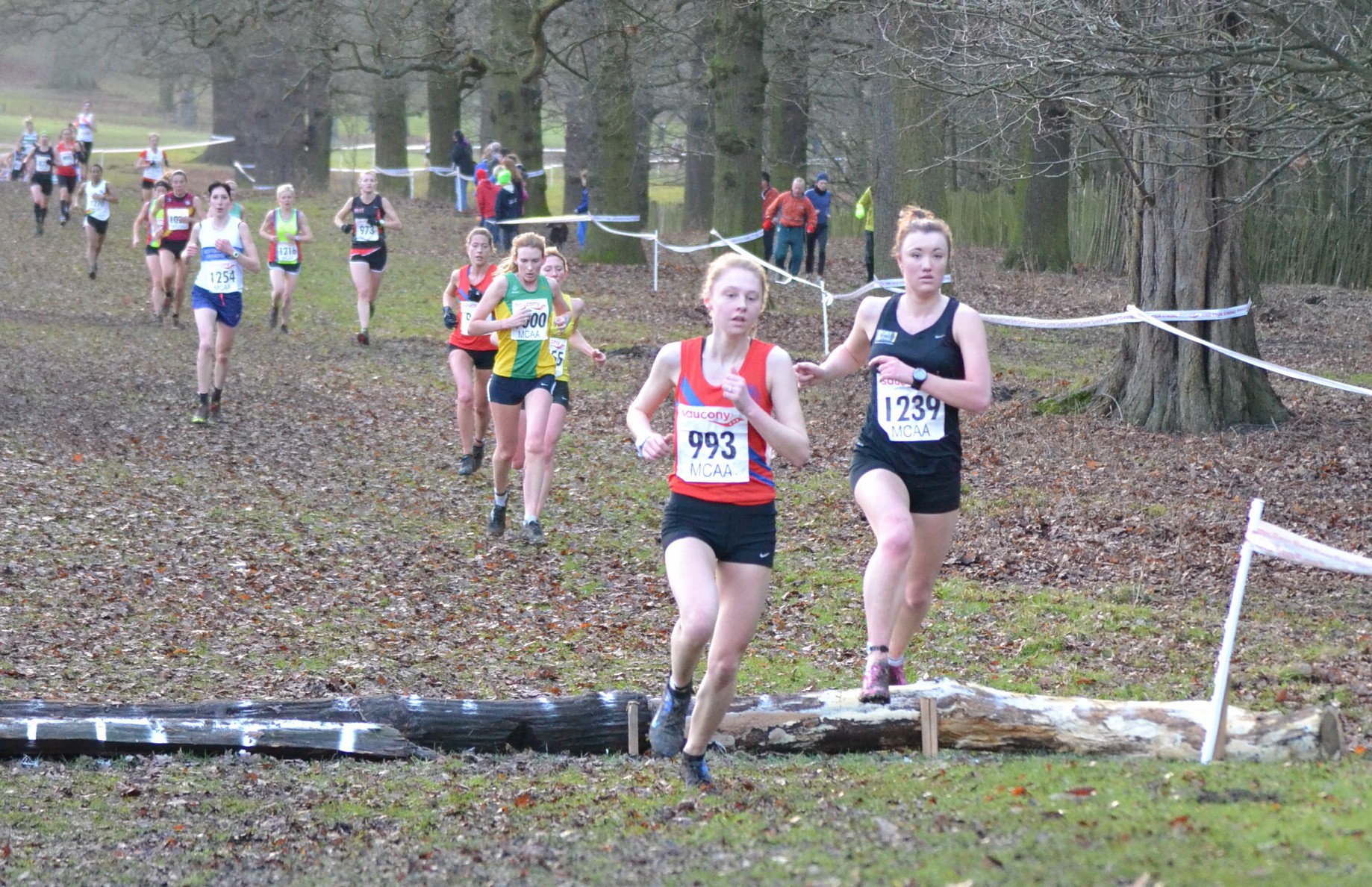 Midland Cross Country Championship – Wollaton Park, Nottingham – 24 January 2015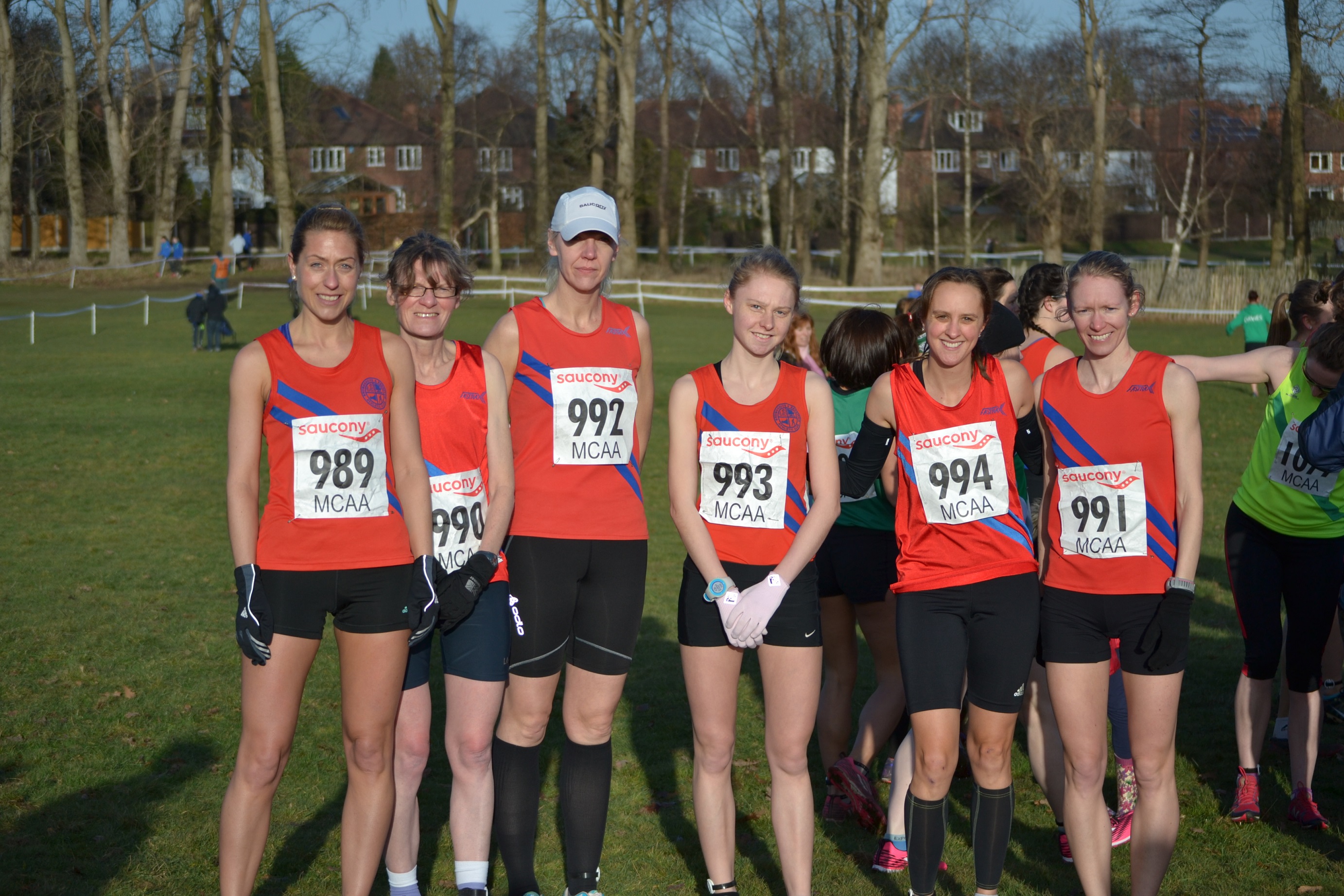 Photos by David Ball
Men's team run report by Colin Smith:
The beautiful setting of Wollaton Park in Nottingham saw the venue for the 2015 Midland Cross Country Championships. (Saturday 24th January) The course was a tale of two halfs. One side being firm and undulating and the other long open flats with exception to a 200m stretch of ankle deep sticky mud.
The senior men were down on numbers from the recent Birmingham League fixture where a record 24 athletes turned out. However, they still did the club proud. Joe Smith lead the Bromsgrove & Redditch charge home in 40th (40:05) followed by Mark Appleton in 78th (42:17). Simon Lanckham was next home in 127th (44:45) running on a tight calf for a long period of the race. Andrew Freeman 147th (45:44), Kevin Lanckham 156th (46:09) and Dean Hartshorne 200th (47:49) completed the scoring six.
Ian Keyte 248th (49:32), Stephen Brooks 263rd (50:01), Darryll Thomas 292nd (51:27) and Paul Battey 312nd (52:23) making his Bromsgrove & Redditch debut completed lineup. Well done Paul.
With the field consisting of 397 athletes the team finished 12th out of 38 finished teams. Beating local rivals Halesowen AC once again.
Individual medals went to Alastair Watson of Notts AC (1st 37:01) followed by his team mates Aaron Scott (2nd 37:07) and Sam Mitchell (3rd 37:08). Notts AC also took team gold with all scoring six athletes within the top ten.
The next meeting for the senior men is the final fixture of the Birmingham Cross Country League at Aldersley Stadium, Wolverhampton. (Saturday 7th Febuary 2015, 2:30pm start). One last push will see the senior men's team promoted to Division One.
Ladies team report by Katy Anderson:
Bromsgrove and Redditch Ladies finished an impressive sixth at the Midland Cross Country Championships at Wollaton Park, Nottingham on Saturday (24 January).
Sally Hogan, who afterwards said that the 8k undulating course had suited her perfectly, recorded her best performance of the winter to date with a perfectly paced run to finish first B&R scorer in 33rd (31:42).
She started steadily, but in contrast to recent weeks, she got stronger over the last couple of kilometres which should give her confidence going into the last few races of the season.
Katy Anderson was disappointed with her performance after a series of good races, but finished 40th in 32:10, with Laura Kyte right behind her in 42nd (32:14) and Tamara Ball making up the scoring quartet in 56th (33:23).
Laura, who returns to Argentina at the end of February, was much happier with her run compared to her outing at the Worcestershire County Championships in early January (which, admittedly, must have been a shock to the system after a long haul flight and complete change of temperature and terrain), while ladies captain Tamara was also pleased with her performance – as well as the performance of the team overall.
In addition to B&R's top four finishers, Mel Hepke, who had a mad dash to the start line after a late arrival to Wollaton Park, just missed out on the top 100, but did well to finish in 104th (36:28) with her less-than-ideal preparation, with Charlotte Ball finishing in 164th (40:11).
Defending champion Jane Potter (Charnwood) – a GB & NI representative at the World Cross Country Championships back in 2009 – won the race in 27:54, with Bournville Harriers' Nicola Sykes in second (28:08) and Bristol & West's Imogen Ainsworth in third (28:14).
Click here for more photos by David Ball
Click here for article in Redditch Advertiser
Results – and photos from Notts AC Flickr