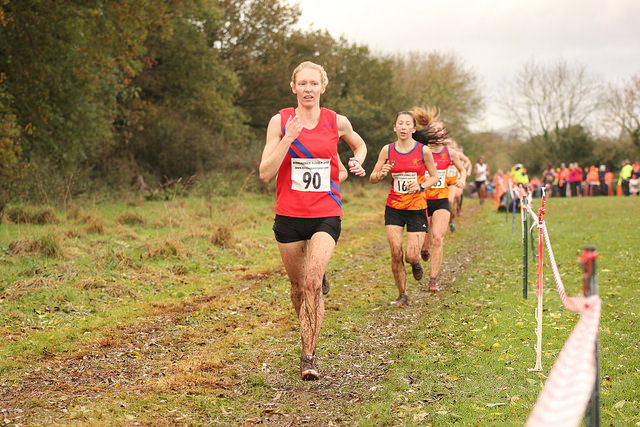 Midland Women's League Cross Country 8/11/14 Newbold Comyn, Leamington Spa
Run report by Katy Anderson
First Birmingham XC league & Midland Women's XC – 8 November 2014
The first Birmingham League XC of the 2014/15 season – combined with the Midlands Women's League fixture – took place at Newbold Comyn, Leamington (a course known for its 'real' cross country credentials), on Saturday 8 November.
Following a series of impressive runs, most notably a 73:49 PB at the Great Birmingham run three weeks ago, Joe Smith was first B&R runner home in the men's race, finishing 26th overall in a 700-strong field which included all three men's divisions, in 35:58min.
He was seventh in last weekend's Gloucester League XC in Malvern – a high quality race won by David Roper of Cheltenham who was sixth overall in Leamington.
James Bowler continued his comeback with a 93rd place finish in 37:52, while Mark Appleton, Rich Lomas, Simon Lanckham and Darren Hale finished 123rd, 135th, 157th & 187th respectively in the combined field, making up a strong B&R A-team who finished 15th overall.
Other finishers were Dave Gale (243), Kevin Lanckham (265), Malcolm Duff (303), Andrew Freeman (320), Mark Graham (324), Dean Hartshone (387), Steve Brooks (401), Paul Atkins (489), Ian Keyte (523), Steve Beddoe (531), Phil Richardson (537), Ian Nutter (577) and Phil Anderson (609).
The race was won by Birmingham Uni's Ed Shepherd in 33.09, leading his team to first overall.
The next race in the Birmingham League will be split into divisions, and going into that event, B&R – who are currently in division 2 – are in third place, which would be good enough for promotion at the end of the season if they can maintain that level of performance.
The women's field in Leamington was equally strong and there was no denying the quality as GB&NI representative Jess Judd lined up in a record field of 369 runners.
Not unexpectedly, Judd won in 22:46min, while first B&R runner home was Katy Anderson – third in last week's Gloucester League – in 30th (25:51).
Sally Hogan, after a tough summer of illness, returned to racing with a positive 46th place finish in 26:35 followed by Tamara Ball in 65th (27:15), who put in another consistent captain's performance to secure an impressive seventh-place team finish on the day.
Other finishers were Melanie Hepke (132), Charlotte Ball (176), Becky Selvey (185) and Jane Anderson (216)
It was a great turnout from the club including the non-runners on the day who provided great support as always, so thanks to everyone.
Next up is the Birmingham Men's League at Plock Court Gloucester and Midland Women's League at a venue still to be decided on Saturday 6 December.
Results:
1 Jessica Judd – Loughborough Students
2 Georgina Outten – Birchfield Harriers
3 Laura Gent – Birmingham University
Bromsgrove and Redditch Athletes:
30 Katy Anderson
46 Sally Hogan
65 Tamara Ball
132 Mel Hepke
176 Charlotte Ball
185 Becky Selvey
216 Jane Anderson
369 finishers
Team results:
Top ten:
1 – Birmingham Uni 18 (3.6,9)
2 – Loughborough Uni 19 (1,7,11)
3 – Birchfield 30 (2,10,18)
4 – Telford A C 128 (5,23,100)
5 – BRATS 137 (36,48,53)
6 – Wolverhampton & Bilston 141 (14,63,64)
7 – Bromsgrove & Redditch 141 (30,46,65)
8 – Tipton 143 (42,50,51)
9 – Warwick Uni 145 (25,44,76)
10 – Stratford AC 160 (29,37,94)
40 teams in total
B&R Masters team came 18th out of 31 Masters teams.