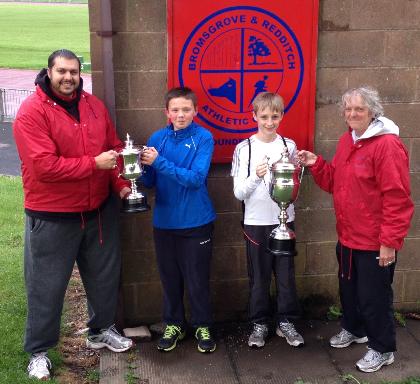 Worcestershire Track & Field Championships 2013
Nunnery Wood, Worcester
Saturday 25th May
Above: Josh, Lewis, Charlotte & Amy were successful at Worcester
Above: Candy Lockett won a hat-trick of golds
Finally the sun shone on a track meet as Bromsgrove and Redditch AC athletes collected a whole array of medals as many were crowned County Champions at the event. Martin Aspley-Davis collected an incredible 4 golds while David Mould, Harry Onions, Sam Lloyd and Candy Lockett each picked up 3.
Above: Sam Cater, Lewis Byng, Josh Pearson and Rita Brownlie
Following on from the Worcestershire Championships two of the club's athletes were presented with Worcestershire AA trophies in recognition of their achievements at the event.
Joshua Pearson not only won his 100m but also won the 200m with a PB of 26.8s, almost 3 seconds faster than the second placed athlete. This result gave him a U.K. ranking of 14th in his under 13 age category.
The field trophy was awarded to Lewis Byng who threw a new P.B. of 33.79 m in the javelin under 13 boys competition which was just short of 10 metres clear of the 2nd placed athlete. This ranks him 6th in his under 13 age category in the UK.
Rita Brownlie, Coach and Team Manager at the club explained that outstanding achievement awards were presented to both male and female athletes both in the field and on the track. The Worcester Championships covers all ages from under13 being the youngest to seniors and veteran age categories and it was incredibly unusual for such awards to be presented to athletes in such a young age category.
Throws Coach, Sam Cater has been training Lewis for over a year and said of Lewis "In the last year he has improved by 11 metres in the javelin. I imagine I will be seeing my under 15 club record go as soon as he reaches that age category. He is a very determined athlete with lots of potential and is committed to his training."
The full results should eventually appear on the Worcestershire Athletic Association website but aren't there yet (on 2nd June). CLICK HERE for the Worcestershire T&F Championships results page.
GOLD medals went to:
David Mould, 100m Senior Men's Competition (11.4)
David Mould, 200m Senior Men's Competition (23.2)
David Mould, 400m Senior Men's Competition (50.7)
Joshua Pearson, 100m Under 13 Boys' Competition (13.3)
Joshua Pearson, 200m Under 13 Boys' Competition (26.8)
Martin Aspley-Davis, 200m Men's V35 Competition (24.3)
Martin Aspley-Davis, 400m Men's V35 Competition (54)
Martin Aspley-Davis, 400m Hurdles Men's V35 Competition (60.9)
Martin Aspley-Davis, Javelin Men's V35 Competition (35.28m)
Rebekah Miller, 100m Under 17 Women's Competition (13.3)
Rebekah Miller, 200m Under 17 Women's Competition (26.9)
Jessica Bennett, 200m Under 15 Girls' Competition (27.0)
Simeon Clarence, 400m Under 20 Men's Competition (51.3)
Calvin Scoltock, 800m Men's V35 Competition (2.11.1)
Tamara Ball, 1500m Senior Women's Competition (5.12.1)
Katie Plummer, 3000m Under 17 Women's Competition (11.44)
Peter Mould, 300m Hurdles Men's M60 Competition (47.7)
Lewis Byng, Long Jump Under 13 Boys' Competition (4.18m)
Lewis Byng, Javelin Under 13 Boys' Competition (33.79m)
Harry Onions, Shot Put Under 17 Men's Competition (10.55m)
Harry Onions, Discus Under 17 Men's Competition (26.61m)
Harry Onions, Hammer Throw Under 17 Men's Competition (35.86m)
Sam Lloyd, Shot Put Senior Women's Competition (10.05m)
Sam Lloyd, Discus Senior Women's Competition (28.33)
Sam Lloyd, Javelin Senior Women's Competition (32.82m)
Nicholas Jones, Shot Put Under 13 Boys' Competition (4.25m)
Charlotte Tongue, Shot Put Under 20 Women's Competition (5.90m)
Candy Lockett, Shot Put Under 15 Girls' Competition (9.12m)
Candy Lockett, Discus Under 15 Girls' Competition (19.66m)
Candy Lockett, Javelin Under 15 Girls' Competition (20.84m)
Julie Wakelam, Hammer Throw, Women's V50 Competition (30.20m)
Julie Wakelam, Javelin Women's V50 Competition (22.22m)
Oliver Kemp, Javelin Under 17 Men's Competition (33.08m)
Isobel Billau, Javelin Under 20 Women's Competition (28.60m)
Amy Mijovic-Couldwell, Javelin Under 13 Girls Competition (19.15m)
SILVER
Fran Gallagher, 100m Under 17 Women's Competition (13.5)
Fran Gallagher, Shot Put Under 17 Women's Competition (4.47m)
Deborah Ricci, 100m Women's V35 Competition (15.0)
Deborah Ricci, 200m Women's V35 Competition (31.7s)
Romy Naven, 200m Under 20 Women's Competition (27.1)
Sarah Guenther, 300m Under 17 Women's Competition (45.3s)
Isobel Billau, 400m Under 20 Women's Competition (57.3s)
Isobel Billau, Triple Jump Under 20 Women's Competition (10.67m)
Andrew Freeman, 800m Men's V35 Competition (2.18.6)
Andrew Freeman, Javelin Men's V35 Competition (32.33m)
Megan Nicod, 800m Under 15 Girls Competition (2.33.4)
Beth Lloyd, 800m Under 13 Girls Competition (2.40.9)
Jessica Bennett, 75m Hurdles, Under 15 Girls' Competition (12.9s)
Dominic Gardner, High Jump Under 15 Boys' Competition (1.43m)
Julie Wakelam, Long Jump Women's V35 Competition (3.75m)
Julie Wakelam, Discus Women's V35 Competition (21.60)
Richard O'Connor, Discus Senior Men's Competition (31.32m)
Richard O'Connor, Hammer Throw Senior Men's Competition (33.33m)
Charlotte Tongue, Javelin Under 20 Women's Competition (25.01m)
Heather Knight, Javelin Under 15 Girls Competition (19.86m)
BRONZE
Oliver Kemp, 100m Under 17 Men's Competition (12.1s)
Romy Naven, 100m Under 20 Women's Competition (13.2)
Ashleigh Beaven, 100m Under 17 Women's Competition (13.8)
Ashleigh Beaven, Shot Put Under 17 Women's Competition (4.46m)
Calvin Scoltock, 400m Men's V35 Competition (59.1s)
Joe Smith, 3000m Senior Men's Competition (9.52.0)