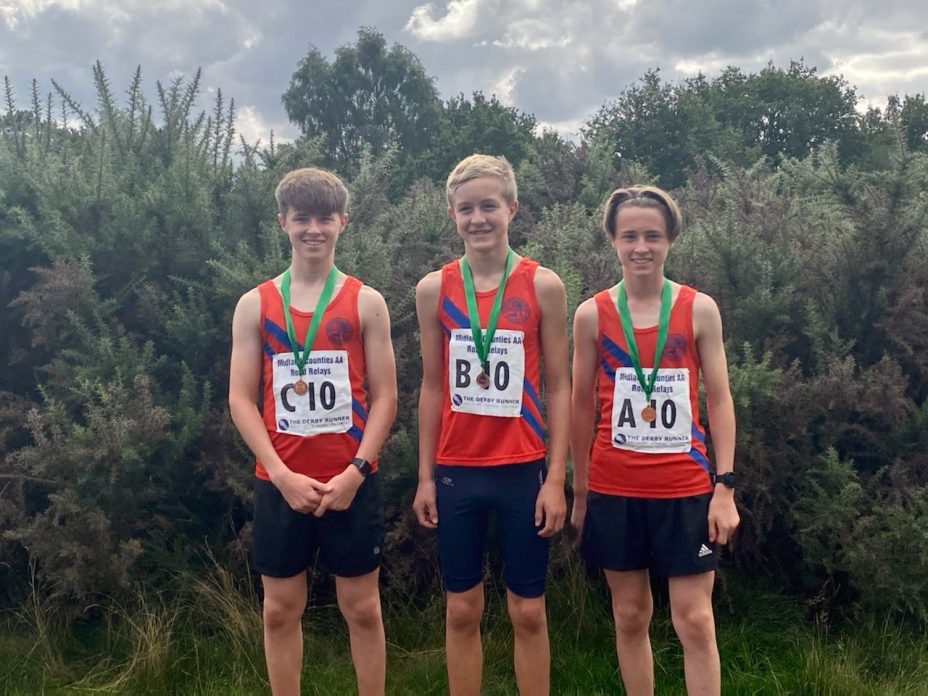 It was a very successful outing for the young athletes representing Bromsgrove and Redditch AC at the Midland Road Relay Championships on Saturday 25th September.
The teams of three each ran a leg of an undulating 3.88km road course on a beautiful day at Sutton Park.
The under 15 boys took pride of place by gaining bronze medals in a highly competitive race comprising 43 teams from across the Midlands. Sam Hembry raced hard to come in 6th on the first leg (13 minutes 31 seconds) and handed over to William Pridden who ran a storming leg (13.28) to take the team into the lead. Willem Hembry then ran strongly (14.16) to hold onto third place against tough opposition from Birchfield Harriers (1st) and Stroud (2nd).
Kara Welborn put in the best individual performance of the day by coming in 5th for the under 13 girl's A team (15.24), this was the 8th fastest of all legs on the day. She was well supported by Caitlin Pridden and Winnie Padmore, the team finished in 11th position.
The under 17 women's team of Lucy Hatfield, Josie Mawdsley and Lauren Coates also finished in 11th position.
The under 15 girls were led off by Hannah Dale who came in 9th in a fast 15.29, followed by Philippa Taylor who ran well to hold onto 9th place (16.10) and the team was completed by Lucy Stewart who was running in the relays for the first time and held on well for 18th place.
The under 13 boys got off to a strong start with Gabriel Wagstaff who came in 8th on the first leg (14.31), he was followed by Nathan Watkins with a good run on second leg, unfortunately there was no third runner available to complete the team.
Well done to everyone else who represented the club, it was a great turnout! The club is hoping for further success at the National Road Relays at Sutton Park on October 9th.
Congratulations are also due to Kara Welborn who has been selected to represent the West Midlands in the mini-marathon held in conjunction with the London Marathon on October 3rd.