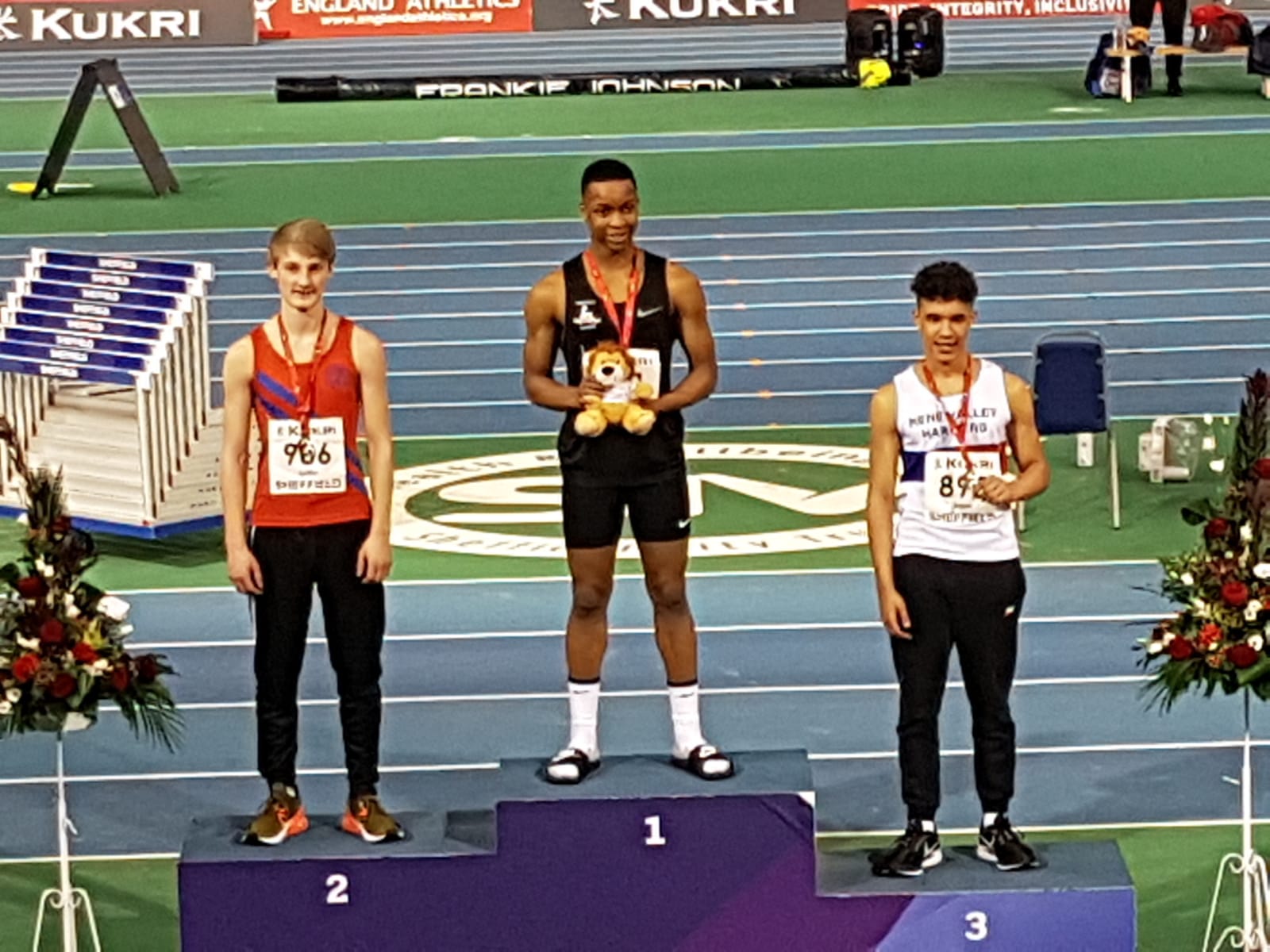 A group of young Bromsgrove and Redditch sprinters, coached 4 times per week by Paul Gripton, have had a successful indoor season, setting new personal bests, breaking club records and winning Championship medals.
Matthew Griffin won a bronze medal over the 60m hurdles at the Midlands Championships, and the following weekend placed 2nd at The Birmingham Games in a time of 8.18s which ranked him 4th in the UK and bettered his own club record.  He then went on to compete at the England age group championships in Sheffield where he improved his time through the heats and semi before powering to a silver medal in a time of 8.13s and an improvement to 3rd on the rankings, although he beat one of the athletes ranked above him on time.
Nikita Gotthardt-Mills became Midlands 60m champion, breaking a 26 year old club record, running 7.82s, before adding the bronze medal and breaking a 14 year old club record of 25.77s in the 200m. At the England Championships she finished a fantastic 6th place in the final in her first year in the U17 age group in a time of 7.83s.
Stewart Greenhalgh finished 5th over the 60m at the Midlands Championships, before heading to the Scottish Championships for his more favoured event of 400m where he finished 4th in 50.62s and broke the club record set last year by his training partner.  At the England Championships he finished 4th in his heat over 400m, before breaking a 28 year old club record over the 200m, running 22.83s for 5th place in his heat.
Josh Pearson won the bronze medal in the Midlands 400m in a time of 50.10s which gave him back the Club record, and a personal best.  Although he qualified for the England Championships he decided not to compete and to focus on the outdoor season.
Nathan Biggs in his first year at U17 level and racing on the boards for the first time, finished 4th in the Midlands 200m, in a time of 22.84s breaking a 14 year old record.
Report by Karen Pearson