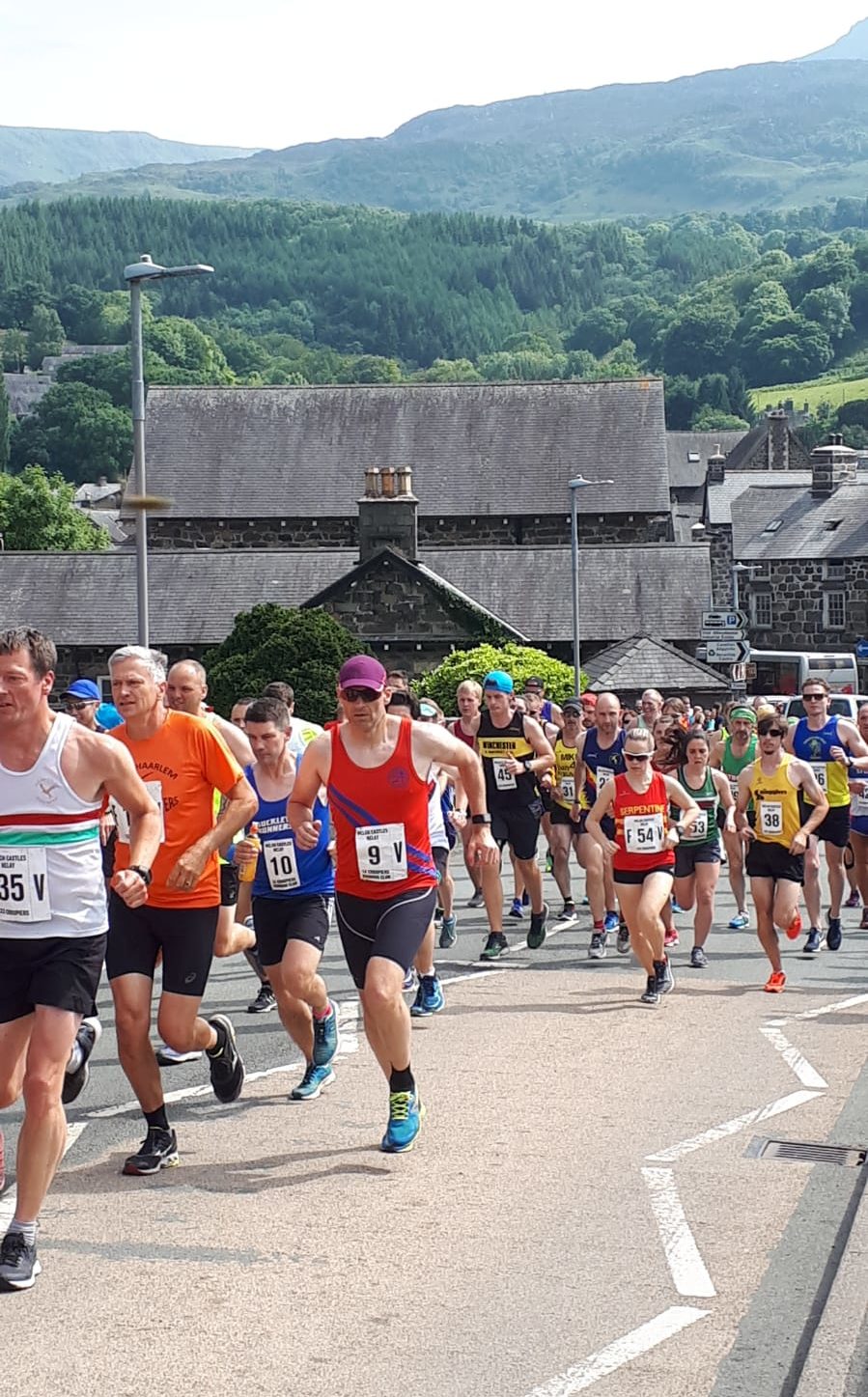 Welsh Castles Relay 2018 Results
The overall winners were Sale Harriers in a time of 20:07:51.
Bromsgrove & Redditch AC finished 16th overall out of 67 teams, in a time of 24:05:06
Special mention to Rob Mole who was 1st Vet on Stage 12.
Massive thanks to team manager James Hood and to the many people involved in supporting the team.
B&R AC performances:
| Leg | Time | From | To | 2018 Runner | Distance (miles) | Total ascent (feet) | Overall position on leg | Time | Behind Leader | Class Position |
| --- | --- | --- | --- | --- | --- | --- | --- | --- | --- | --- |
| 1 | 10:00am | Caernarfon Castle | Penygroes | James Hood | 9.1 | 447 | 5 | 59:00 | +5:46 | 5th Open |
| 2 | 11:00am | Penygroes | Criccieth Castle | Andrew Freeman | 10.7 | 370 | 9 | 01:06:47 | +6:15 | 8th Open |
| 3 | 11:55am | Criccieth Castle | Maentwrog | Mark Appleton | 12.3 | 938* | 44 | 01:30:53 | +22:42 | 36th Open |
| 4 | 13:00pm | Maentwrog | Harlech Castle | Paul Collins | 9.5 | 482 | 27 | 01:08:58 | +14:22 | 21st Open |
| 5 | 13:50pm | Harlech Castle | Barmouth | Ian Keyte | 9.6 | 461 | 20 | 01:06:36 | +10:24 | 19th Open |
| 6 | 14:40pm | Barmouth | Doglellau | Dean Hartshorne | 10.7 | 718 | 7 | 01:08:39 | +9:49 | 6th Open |
| 7 | 15:35pm | Doglellau | Dinas Mawddwy | Steve Brooks | 10.1 | 1472* | 34 | 01:17:38 | +18:06 | 28th Open |
| 8 | 16:25pm | Dinas Mawddwy | Foel | Matt Henney | 10.8 | 1017 | 30 | 01:20:11 | +18:04 | 25th Open |
| 9 | 17:10pm | Foel | Llanfair Caereinion | Sally Hogan | 8.5 | 751 | 14 | 53:27:00 | +9:49 | 14th Open |
| 10 | 17:50pm | Llanfair Caereinion | Newtown | Damian Lewis | 13.1 | 1110* | 49 | 01:37:16 | +24:48 | 36th Open |
| | | | | | | | | | | |
| 11 | 07.00am | Newtown | Llanbadarn Fynydd | Kevin Fisher | 12.3 | 1296* | 21 | 01:21:34 | +14:11 | 19th Open |
| 12 | 08.05am | Llanbadarn Fynydd | Crossgates | Rob Mole | 11.2 | 503 | 6 | 01:05:49 | +2:07 | 6th Open |
| 13 | 09.00am | Crossgates | Builth Wells | Ian Nutter | 10.6 | 522 | 34 | 01:16:14 | +18:37 | 31st Open |
| 14 | 09.55am | Builth Wells | Drovers Arms | Tim Spencer | 10.8 | 1619* | 52 | 01:22:55 | +23:20 | 40th Open |
| 15 | 10.55am | Epynt Visitor Centre | Brecon | Anthony Warner | 12.8 | 495 | 31 | 01:31:43 | +18:31 | 25th Open |
| 16 | 11.55am | Brecon town canal basis | Torpantau | Peter Ball | 12.5 | 1179* | 13 | 01:23:40 | +8:43 | 13th Open |
| 17 | 12.40pm | Taf Fechan Railway Station (Brecon Beacons) | Cyfarthfa Castle | Sam Lake | 8.7 | 407 | 37 | 01:04:31 | +17:57 | 31st Open |
| 18 | 13.40pm | Merthyr | Quakers Yard | Darryll Thomas | 7.6 | 304 | 7 | 44:35:00 | +4:55 | 7th Open |
| 19 | 14.25pm | Abercynon | Nantgarw | Tamara Freeman | 7.7 | 278 | 23 | 54:15:00 | +10:12 | 20th Open |
| 20 | 15:00pm | Caerphilly Castle | Cardiff Castle | Anthony Howell | 10.1 | 205 | 36 | 01:10:25 | +14:33 | 28th Open |
| | | | | | | | | Overall time 24:05:06 | | |
| | | | | | | *Officially a 'mountain' stage | | | | |
| | | | | | | | | | | |