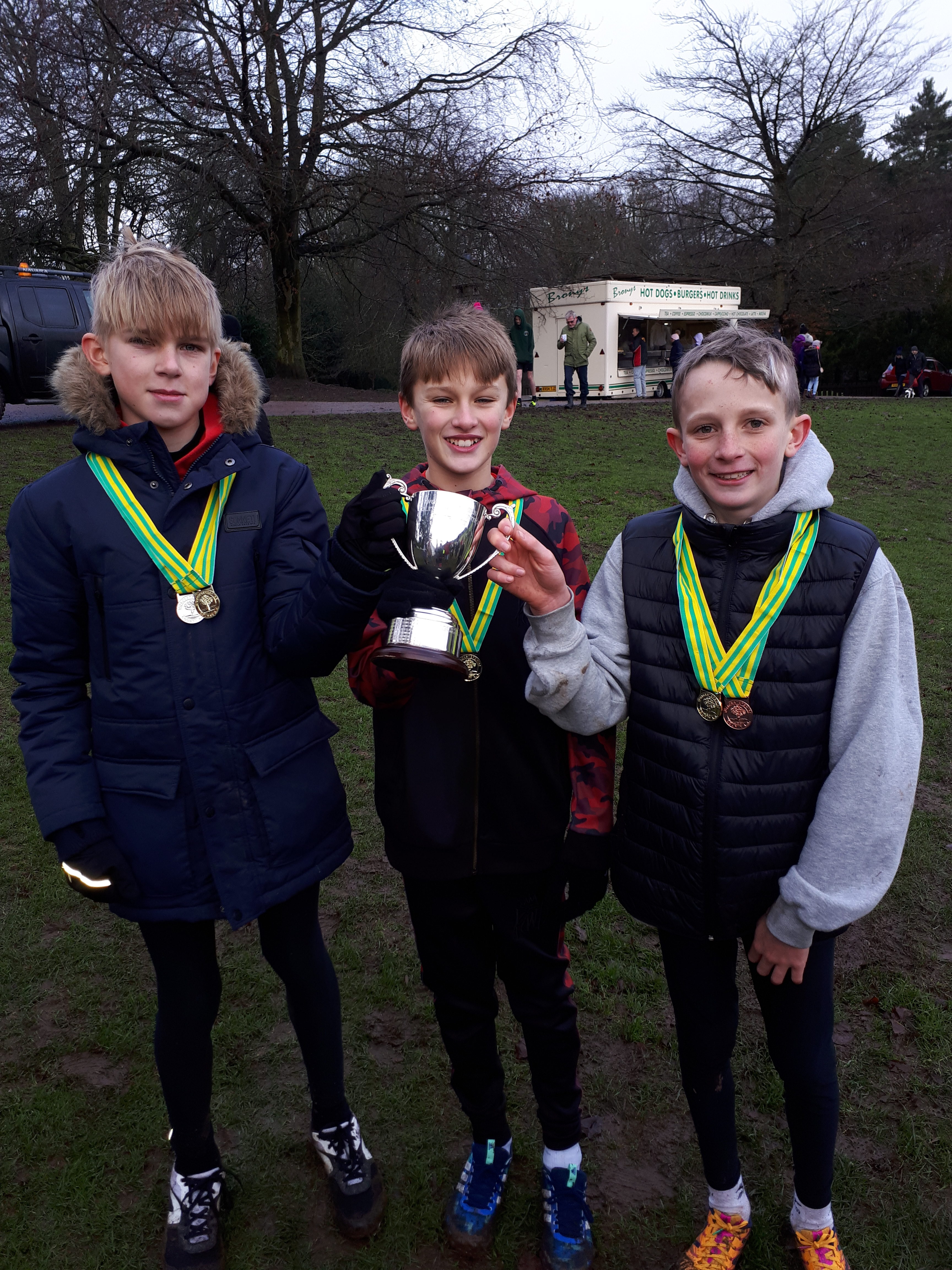 Worcestershire County Cross Country Championships 2018
Saturday 6 January 2018
Warley Woods
Conor Smith (U20) and Natallie Hatfield (U15) County Champions
Saturday 06 January saw the Warwickshire and Worcestershire County Championship held at Warley Woods in Smethwick, West Midlands. With all the age groups running, this was a brilliant turn out producing some outstanding performances especially from the Bromsgrove & Redditch AC junior athletes. The course, over very tough parkland with a very big climb on the far side of the park, was made more difficult as the ground cut up as the races progressed.
Positions for the Worcestershire Championships are:.
U13 boys. 3k.  2nd (silver) Pijus Tvardauskus; 3rd (bronze) Finnan Robins; 4th  Leo Merritt; 5th  Seb Purvis. Team gold for Pijus; Finnan; & Leo.
U13 girls. 3k.  3rd (bronze) Esme Ranger; 8th  Lucy Hatfield; 12th  Alex Caldicott; 14th Louise Osbourne. Team bronze for Esme; Lucy; & Alex.
U15 boys. 4k.  6th  Joe Cunliffe; 7th  Luke Richardson; 9th  Harrison Mayne; 12th Ty Adkins; 14th  Josh Kyte; 15th Harry Williams;. 16th  Adam Knowles. Team silver for Joe; Luke; & Harrison.
U15 girls 4k.  1st (gold) Natalie Hatfield; 6th Sophie Groom; 10th Lauren Sykes. Team silver for Natalie; Sophie; & Lauren.
U17 men 6k. 7th Joe Hamilton
U17 women 5k. 1st  Beth Sykes;  3rd  Amy Mijovic Couldwell; 5th  Ellen Bowen; 6th Anna Nicod.  Team Gold for Beth; Amy; & Ellen.
U20 men 6k. 1st (gold) Conor Smith; 7th Gareth Richardson.
Senior/Masters Women 6k. 4th  Sally Hogan. 7th  Tamara Freeman. 27th Sarah Richardson. Team 4th just missing out on a team bronze.
Masters Woman O/50 6k. 2nd (silver) Sarah Richardson ; 4th Dagmar Prinzing.  6th Jane Anderson.
Senior/Masters Men 10k. 9th  Tim Spencer; 18th  Mark Appleton; 19th  Peter Ball; 26rd Andrew Freeman; 33rd Tom Richardson; 35th Steve Brooks.  Team 4th team narrowly pipped for a podium place.
Masters Men. 10k. O/40. 5th  Steve Brookes. 11th  Matt Henney.
                                  O/50. 4th  Ian Keyte.
                                  O/60. 3rd (bronze) Phil Richardson.